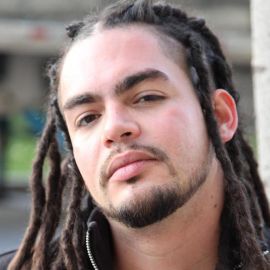 Dennis Febo
Educational Speaker on Consciousness, Identity, Cultural Understanding and Community Involvement
Audiences describe Dennis Febo as 'Genuine,' 'Engaging,' and 'Extraordinary.' "He delivered a powerful message in a very humble manner, and I think that was what I appreciated most," said a student who attended one of his workshops.
 Dennis Febo is a native of Brooklyn, New York, raised in many different parts of the United States and Puerto Rico. While growing in such diverse and disparate communities, many experiences with poverty, racism and prejudice, and not being able to comprehend such disparities, gave him a very universal outlook on life. During his teenage years, he took on the goal of uplifting human beings to enact their true potential, through education on social consciousness and culture.

 During high school and college, Dennis began many different organizing projects mainly targeting the youth with whom he found so much in common with in disadvantaged communities. He found that through art, music and entertainment, the minds of the youth were more apt to receive and internalize the information provided to them regarding the social conditions in which they are a part of, and how they could overcome them through unity and work.

 In college Dennis worked with student government, and pledged for Lambda Sigma Upsilon Latino Fraternity Inc., founding the Kyodrowe Chapter, where he heightened his interest in teaching and uplifting our communities along with his fellow peers. After college, he began taking action through community organizing, activism, and realized that his speaking abilities were able to draw the attention of many, and was able to organize on larger social levels. He also began to work with singing and music, as it was his passion due to an evangelical upbringing, and began to speak publicly on many different topics including race, ethnicity, the mind, identity and social consciousness.

 Dennis graduated from the University at Buffalo with a master's degree in Humanities Interdisciplinary: Caribbean Cultural Studies, studied in Havana, Cuba and Bahia, Brazil. His master's thesis is a documentary regarding Puerto Rican Sovereignty entitled: "Sazón Batería y Soberanía: Puerto Rico in the Dance for Self-Determination." He also attained a bachelor's degree in Latino Studies, concentrating in history and politics.  

 Dennis has worked as a community organizer, social worker/outreach manager, parent coordinator for the NYCDOE, counseled families as a crisis prevention specialist, and managed after school math and literacy programs throughout the NY, NJ and PA areas.  

Speech Topics
---
Cultural and Social Consciousness Education
Related Speakers View all
---
Malcolm London

Young Poet, Educator & Activist; Known for his TED T...

Lamman Rucker

Actor, Education Activist, Green Living Advocate & E...

Wes Moore

CEO of Robin Hood Foundation, Best-Selling Author & ...

Robyn Jackson

Founder of Mindsteps Inc.; Expert on Helping Educato...

Liz Dozier

Founder & CEO of Youth Equity Platform Chicago Beyon...

Dr. Afiya Fredericks

Assistant Professor of Psychology at the University ...

Carol Geary Schneider

Former President of the Association of American Coll...

Colin Stokes

The director of communications for the non-profit Ci...

Steve Pemberton

Chief People Officer at Workhuman & Author of "A Cha...

AC Green

NBA Champion Miami Heat and Lakers; Community Youth ...

Amy Purdy

Former "Dancing with the Stars" Contestant & Paralym...

Jalen Rose

ESPN Analyst & Former NBA Player

Al Duncan

Motivational Speaker for At-risk Youth; Authority on...

TJ Leyden

TJ Leyden along with his wife Julie founded StrHATE ...

Michelle Rhee

Founder of StudentsFirst & Education Reform Advocate...

Susan L. Taylor

Founder & CEO, National CARES Mentoring Movement & E...

Jackson Katz

Anti-Gender Violence Activist, Author

Kathleen Kennedy Townsend

Maryland's 1st Female Lt. Governor

Victoria Rowell

Classically Trained Dancer, Actress on "The Cosby Sh...

Felipe Luciano

Poet, Community Activist, Journalist, Media Personal...
More like Dennis