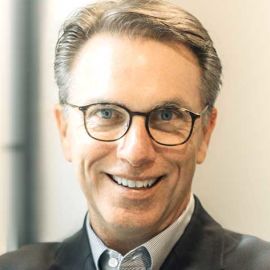 Dennis Gillan is a professional keynote speaker who talks about tough topics like mental health and suicide prevention. He was a junior in college when his older brother Mark committed suicide. Struggling with the news, Gillan increased his use of alcohol and other substances.
Eleven years later, Gillan's younger brother Matthew decided to follow Mark, making the same forever decision. Losing not one, but two brothers to suicide thrust him into a very dark place. Therapy and sobriety lightened the room, and he started working behind the scenes of the suicide prevention movement by volunteering for the Suicide Prevention Hotline. Gillan did not publicly talk about his brothers until 2010, when he was asked to speak at a fundraiser for five minutes. He remembers how he barely got through it and walked offstage when a woman pointed at him, saying "You need to tell that story more often."
His talk is now truly a calling and has morphed from telling his personal story into a real call to action for everyone in the audience to get comfortable talking about tough topics like mental health and suicide prevention. Gillan has spoken to business leaders, military personnel, faith leaders, students, and basically anyone who will listen, across the United States and internationally.
Gillan takes his audience on a rollercoaster ride of emotions as he explains how he recovered from the suicide deaths of both of his brothers. Following the latest guidelines on speaking about suicide and suicide prevention, he will discuss the warning signs of mental distress, the benefits of therapy, and how he found peace in sobriety. Gillan has a unique presentation style and uses humor to help this message land.
Videos
---
Speech Topics
---
How to Survive the Loss of a Loved One to Suicide
I lost two brothers to suicide, eleven years apart. I took two separate roads to healing----one is paved and the other is a dirt road. I will explain how to mourn properly and stay on the paved road.
Related Speakers View all
---
Kevin Briggs

Golden Gate Guardian, International Crisis Managemen...

Andrew O'Brien

Suicide Survivor & Preventer, Army Veteran, Founder ...

Kevin Hines

Brain Health Advocate & Storyteller

Andrea Paquette

Mental Health Advocate, Founder & President of the S...

Clint Malarchuk

Former NHL Goalie, NHL Coach, Suicide Survivor & Men...

Lindsey Boggs

Mental Health & Suicide Prevention Advocate

Dave Romano

Professional Mental Health Speaker from Active Minds

Susie Reynolds Reece

Author, Violence Prevention Strategist & Consultant,...

Joshua Rivedal

Suicide Prevention Speaker

Tanya Brown

Mental Health & Domestic Violence Prevention Advocate

Michael Zibilich

Suicide Prevention Speaker

Chloe x Halle

Musical Duo Made Up of Sisters Chloe and Halle Bailey

Dondi Burroughs

Health Educator, Suicide Prevention Author, & Law En...

Zak Williams

Global Mental Health Advocate; Son of Legendary Come...

Kate Fagan

Sports Reporter & Commentator; New York Times Best-S...

Kevin Breel

Stand Up Comic & Mental Health Activist

Malcolm London

Young Poet, Educator & Activist; Known for his TED T...

Chris Gethard

Comedian & Host of "The Chris Gethard Show"

Carissa Phelps

Social Entrepreneur, Advocate & Author of "Runaway G...

Jaden Smith

Actor, Rapper and Dancer Known for "The Karate Kid"
More like Dennis