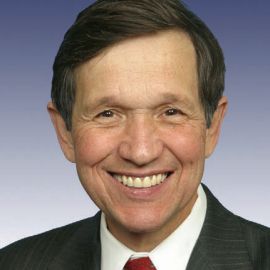 Dennis Kucinich
Fox News Contributor, Former Ohio US Representative and Two-Time Presidential Candidate
Dennis J. Kucinich is a highly respected public servant and progressive icon with an exhaustive knowledge of how to make government work for the people.
Kucinich's commitment to bettering the lives of the public began at a young age. The eldest of seven children from working class parents, he grew up in the inner city of Cleveland and lived in 21 different places by age 18. This first-hand experience with poverty and homelessness instilled in him a passionate drive to fight for the needs of the everyday American.
In 1969 at age 23, Kucinich was elected to the Cleveland City Council. Eight years later he became, at the time, the youngest mayor of a major American city.
After serving as an Ohio State Senator from 1994-96, Kucinich was elected US Representative for Ohio's 10th congressional district, a seat he has held for seven terms. A candidate for the Democratic nomination for US President in 2004 and 2008, he has been a tireless advocate for worker rights, civil rights, and human rights, and has been honored by numerous groups, including Public Citizen and the Sierra Club as a champion of the environment.
The Nation has called Kucinich a "master of parliamentary procedure and a Constitutional purist," who was always "at the ready -- often with the first statement, the strongest demand and the boldest plan" as a fearless Congressman. In 2013, Kucinich joined Fox News as a regular contributor.
An eloquent, transformative speaker, Kucinich motivates and inspires audiences to reach their deepest potential. His is a principle-over-politics style of leadership with the kind of courage and foresight that audiences admire and respect.
Speech Topics
---
The Politics of Possibility
Dennis Kucinich shares with audiences his perspective on how to find the commonalities between party lines and not play "us vs. them" politics, as well as why the protection of our civil liberties is the very foundation of a strong democracy.
Solving America's Health Care Needs
Dennis Kucinich talks with organizations about how to advance current health care debate beyond political rhetoric into the realm of constructive discussion and tangible benefit to all Americans. Drawing on his 40-plus years as a respected politician, he shares his expert insights on why improving access to health care is a must in a democratic society.
Erasing Poverty Through Economic and Social Reform
Dennis Kucinich is a passionate advocate for the rights of those stricken by poverty. Growing up in the Cleveland inner city, his family moved multiple times before age 18; he even lived in the family car at one point. Kucinich talks to audiences about how his beginnings affected his stance on everything from jobs, education, and health care to economic and social reform.
Rebuilding the American Education System
Dennis Kucinich strongly believes that access to a high-quality education is a personal right in a democracy. Kucinich inspires with his unique thoughts on how to put the education debate back on American's front burner.
Power to the People: Transforming Our Communities, Our Nation, and the World
In this lecture, seven-term US Congressman Dennis Kucinich surveys the political landscape, and shares his exclusive insights on a host of issues, including congressional politics, healthcare policy, the environment, and foreign affairs.
Related Speakers View all
---
Cody Adams

Managing Editor of The Floating University.

Francis Tapon

Author, Harvard MBA, and World Traveler

Andrew Cohen

Founder, EnlightenNext

Richard Dowden

Director, Royal African Society

Brian Hoffstein

Contributing Writer

Calvin Trillin

Author, Columnist, Humorist & Political Satirist

Dale Jamieson

Professor, New York University

Jacob Appel

Bioethicist and Writer

Glenn Roberts

Wheat and Rice Farmer; Owner of Anson Mills

Marina Adshade

Author of "Dollars and Sex: How Economics Influences...

An Phung

Multimedia Journalist

Spencer Wells

Geneticist, Anthropologist, Author, Entrepreneur, Ad...

David Hauslaib

Editor, Jossip

Jeffrey Israel

Jeffrey Israel has taught religion and political phi...

Daniel Altman

Sports Analytics & Strategy Expert

Peter Thiel

Former CEO and Co-founder of PayPal; Technology Entr...

Virginia Postrel

Author & Columnist; Writes on The Intersection of Co...

Parag Khanna

Leading Geo-Strategist & Author

Robert Hormats

Vice Chairman of Kissinger Associates Inc.

Sir Richard Branson

Businessman & Founder of Virgin Group
More like Dennis