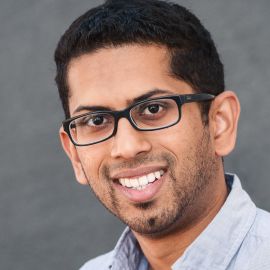 University of Waterloo graduate Dhananja (DJ) Jayalath honed his technical breadth from mechanical to electrical to software engineering as he finished his Electrical Engineering degree. After graduating in 2012 and turning down a lucrative position at Apple, DJ started work on a crazy idea he was already working on – that crazy idea is now called Athos!
Like many tech pioneers of his generation, DJ started the development of Athos between classes. Because he couldn't afford a pricey trainer and was frustrated with the hassle of current training technology, he sought to create a product that could quickly answer his all of his training questions.
What began as a passion for making smarter better connected prosthetics turned into a revolutionary wearable EMG fitness technology. The research DJ collected for prosthetics innovations paired with his sewing and engineering skills crossed over perfectly as he sought to seamlessly integrate bulky EMG models, previously limited to Olympian and professional athletes, into affordable, weightless training apparel. DJ reengineered lab sized technology and condensed it to the size of a credit card and literally built it into interchangeable garments.
Since co-founding Athos in the summer of 2012, DJ has been working on developing the product and driving the vision for a healthier lifestyle through technology.