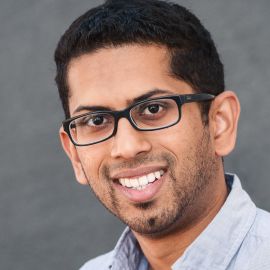 University of Waterloo graduate Dhananja (DJ) Jayalath honed his technical breadth from mechanical to electrical to software engineering as he finished his Electrical Engineering degree. After graduating in 2012 and turning down a lucrative position at Apple, DJ started work on a crazy idea he was already working on – that crazy idea is now called Athos!
Like many tech pioneers of his generation, DJ started the development of Athos between classes. Because he couldn't afford a pricey trainer and was frustrated with the hassle of current training technology, he sought to create a product that could quickly answer his all of his training questions.
What began as a passion for making smarter better connected prosthetics turned into a revolutionary wearable EMG fitness technology. The research DJ collected for prosthetics innovations paired with his sewing and engineering skills crossed over perfectly as he sought to seamlessly integrate bulky EMG models, previously limited to Olympian and professional athletes, into affordable, weightless training apparel. DJ reengineered lab sized technology and condensed it to the size of a credit card and literally built it into interchangeable garments.
Since co-founding Athos in the summer of 2012, DJ has been working on developing the product and driving the vision for a healthier lifestyle through technology.
Related Speakers View all
---
Chrissa McFarlane

Founder and CEO of Patientory

Chris Wiebe

Co-Founder and CTO at Athos Apparel

Shradha Agarwal and Rishi Shah

CEO; President, Outcome Health

Nadine Hachach-Haram

Co-Founder Proximie, NHS Clinical Entrepreneur Fello...

Michael West

Founder and Chief Executive officer of AgeX Therapeu...

Ruchit Nagar

Founder and CEO at Khushi Baby, MPH Student at Yale ...

Jarrett Bauer

CEO and Co-Founder of Health Recovery Solutions

Clint Jones

Co-Founder & CEO, GoHealth

Courtney Nichols Gould

Co-Founder & Co-CEO, SmartyPants Inc.

Klaus Stadlmann

Creator of The World's Smallest 3D Printer

Dave Chase

Institute CEO & Group Co-Founder of Health Rosetta

Min-Liang Tan

Razer co-founder and CEO

David Narrow

Co-Founder and CEO at MonoMano Cycling, CEO at Sonav...

Ben Harvatine

Founder and CEO at Jolt Athletics

Yehia Abugabal

Founder and Director at International Cancer Researc...

George Kurtz

Co-Founder, CEO & President, CrowdStrike

Vivek Ramaswamy

Founder & CEO of Roivant Sciences

Minhaj Chowdhury

Co-Founder & CEO, Drinkwell

Diane Prince Johnston

CEO & Founder of Winnie & Kat; Fashion Entrepreneur

Vic Strecher, Ph.D. MSP

Founder of JOOL Health Inc.; Professor at the Univer...
More like Dhananja