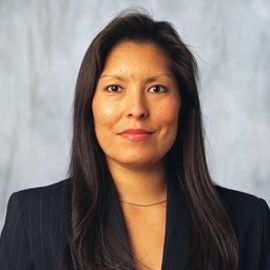 Diane Humetewa is a member of the Hopi Indian Tribe located in northeastern Arizona. She was the U.S. Attorney for the District of Arizona from 2006 - 2009. She was the first Native American female to be presidentially appointed to that position, where she presided over one of the largest U.S. Attorney Offices with one of the highest caseloads in the nation.
Professor Humetewa's legal career includes working in the private sector representing tribal government clients as a federal Indian law and natural resources law attorney. She also served as an Assistant U.S. Attorney, prosecuting a wide variety of federal crimes, including violent crimes in Indian Country, Native American cultural crimes and archeological resource crimes. In 2001, she was promoted to Senior Litigation Counsel/Tribal Liaison where she fostered relationships between the office and Arizona's Indian tribes while managing a caseload. She also supervised the U.S. Attorney's Victim Witness Program. In the 1980s, she helped to establish one of the first federal victim services programs in the nation.
Professor Humetewa's career also includes testifying before U.S. Congress and the U.S. Sentencing Commission. She has also served as counsel to the U.S. Senate Committee on Indian Affairs, counsel to the Deputy Attorney General for the U.S. Justice Department, as a member of the U.S. Sentencing Guideline Commission, Native American Advisory Committee, and as an Appellate Court Judge for the Hopi Tribe. She is a presidentially appointed member of the Board of Directors for the Morris K. and Stewart L. Udall Foundation, and a board member for The Nature Conservancy in Arizona and The National Indian Justice Center. She recently served as chairperson for the Arizona U.S. Magistrate Judge Merit Selection Committee.
Videos
---