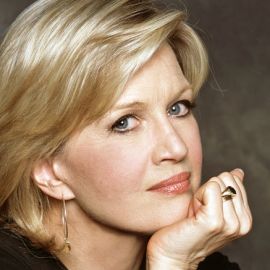 One of the most respected journalists in the world, Diane Sawyer anchors ABC's flagship broadcast World News, and is the network's principal anchor for breaking news, election coverage, and special events.
Sawyer has traveled the globe delivering in-depth and breaking news reports, and has conducted interviews with almost every major newsmaker of our time. Her primetime documentaries have won critical acclaim for shedding light on difficult and previously under-reported topics.
In November 2010, Sawyer brought World News viewers into the heart of China to share the progress that has been made in the areas of education, transportation, and green technologies. At the same time, she explored what Americans need to do in order to stay on the frontlines of the global playing field.
During the summer of 2010, a nationwide conversation about Islam was sparked by controversy over the building of an Islamic community center near Ground Zero. Sawyer worked to address the many misconceptions about Muslims and the religion of Islam during a Primetime special.
Sawyer kicked off her tenure at World News in December 2009 by traveling to Copenhagen where she confronted Iranian President Mahmoud Ahmadinejad about Iran's nuclear ambitions. In January 2010, she reported for the latest installment of Afghanistan: Where Things Stand. She travelled with General Stanley McChrystal as he surveyed the battlefield, and sat down with Afghan President Hamid Karzai for his first interview after his highly contested reelection. From Afghanistan, Sawyer traveled to Haiti to cover the aftermath of the devastating earthquake.
During the historic 2008 presidential election, Sawyer co-anchored ABC News' coverage of the political conventions, election night, and the inauguration. Over the course of the campaign, she conducted wide-ranging interviews with the candidates and also reported for Portrait of a President, a two-hour special that revealed new insight into Barack Obama, John McCain, and their families.
In June 2009, Sawyer, along with Charles Gibson, moderated Questions for the President: Prescription for America, a conversation with President Obama about healthcare reform at the White House.
Through her distinguished documentary work, Sawyer has tackled challenging issues. In 2006, her report on the crises in the foster care system was recognized with the Robert F. Kennedy Journalism Award. In January 2007, she delivered an eye-opening report on poverty in America, Waiting on the World to Change, which gave viewers insight into the lives of families in Camden, New Jersey—the poorest city in America. Sawyer and her team of producers spent two years in the hills of Appalachia reporting the February 2009 special A Hidden America: Children of the Mountains, which won a Peabody Award and a Robert F. Kennedy Journalism Award.
Sawyer's other Primetime documentaries include: an investigation into the warehousing of Russian children in state-run orphanages; a diary of life inside a woman's maximum security prison where she spent two days and nights with inmates; an investigation into the neglect and abuse at state-run institutions for the mentally handicapped; and a landmark investigation into pharmacy prescription errors.
Videos
---
Speech Topics
---
An Evening with Diane Sawyer
Related Speakers View all
---
Anderson Cooper

Journalist, TV Personality, Anchor of CNN's "Anderso...

Hoda Kotb

Broadcast Journalist, Television Personality, Author...

Dan Rather

Iconic Journalist & Former News Anchor for the CBS E...

Katty Kay

Anchor on BBC World News America; Co-Author of "Wome...

Alexandra Cousteau

Environmental Activist, Storyteller & Ocean Advocate

John King

CNN Chief National Correspondent & Host of "Inside P...

Amy Goodman

Host & Executive Producer, Democracy Now!

Jurnee Smollett

Actress & Singer

Planet Money

NPR's Multimedia Team on the Global Economy

Scott Simon

NPR "Weekend Edition" Host

Asra Nomani

Journalist & Author, Women's Rights Activist

America Ferrera

Award-Winning Actress, Producer & Humanitarian

Parag Khanna

Leading Geo-Strategist & Author

Nicholas Kristof

Pulitzer Prize-Winning New York Times Columnist & Po...

Elizabeth Vargas

Emmy Award-Winning Journalist; Best-Selling Author; ...

Ben Stein

Political Economist, Commentator, Author & Actor

Peter Lance

Award-Winning Investigative Reporter

Van Jones

CEO of REFORM Alliance, CNN host, Emmy Award-winning...

Eleanor Clift

Author; Washington Correspondent & The Daily Beast C...

Majora Carter

Real Estate Developer, Peabody Award-Winning Broadca...
More like Diane