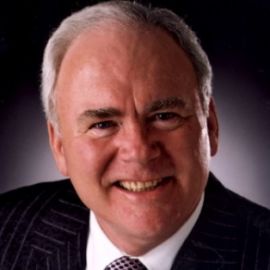 Dick Grote
Dick Grote is one of America's most successful and best-known authors, consultants, and speakers.
 He specializes in leadership, performance management, and building organizational excellence.
Trained as an industrial engineer, he joined General Electric after college and graduated from GE's acclaimed Manufacturing Management Training Program. Dick spent a total of fifteen years with General Electric, United Air Lines and PepsiCo, the last five as Frito Lay's corporate director of training and develop-ment. There he invented the innovative "Discipline Without Punishment" performance management system, the unique approach that solves people problems with dignity and grace. On August 1, 1977 he left Frito Lay to become a corporate consultant.
He created Performance Systems Corporation and built it to a multi-million dollar firm employing over a dozen consultants. Ten years to the day that he started Performance Systems (July 31, 1987) he sold the firm.
For the next two and a half years he traveled extensively, lived on a houseboat in Kashmir, earned a Master's degree in Renaissance Art from SMU, and took groups of young junior high and high school musicians on concert tours of Moscow, St. Petersburg, Riga, Latvia, and Prague.
On January 1, 1990 he returned to consulting, creating Grote Consulting Corporation. His clients include some of the largest and most prestigious organiza-tions, public and private, in North America, Western Europe, and Southeast Asia. Dick's articles and essays have appeared in the Harvard Business Review, The Wall Street Journal, Across the Board, and over two dozen other business and HR magazines and journals.
He is adjunct professor of management at the University of Dallas Graduate School. For five years he was a commentator on life in the work-place for National Public Radio. A platform master, Dick Grote speaks regularly at large human resources and general management conferences. In 2000/2001 he was a featured speaker at the SHRM national conference and the Linkage Conference on Performance Excellence. He delivered the closing general session ad-dresses for both the Governing magazine and the International Personnel Management Association national conferences. He was the closing speaker for The Conference Board's annual HR Conferences in both New York and Mexico City.
His most recent books, Discipline Without Punishment and The Complete Guide to Performance Appraisal were published by the American Management Association. They were both major book club selections and have recently been published in Chinese and Arabic. His video series, Respect and Responsibility, was produced by Paramount Pictures. His new book, The Performance Appraisal Question and Answer Book, will be published by AMACOM Books in Spring, 2002.
Dick Grote has been interviewed about his work by Fortune, Psychology Today and Business Week maga-zines. In October 2001, interviews with Dick Grote appeared in both the Wall Street Journal and the Harvard Business Review. In 1999 he served as subject-matter-expert for the national benchmarking study of best practices in performance management sponsored by the American Productivity and Quality Center, Linkage Inc., and DDI. Gen. Kenneth Minihan, Director of the National Secu-rity Agency, awarded Dick a medal for his work in creating NSA's performance management system (he sent the medal home to mom).
In college he was a member of Colgate University's retired undefeated GE College Quiz Bowl Team. At 57 he still competes regularly in 5K and 10K races (occasionally bringing home a third-place trophy). Dick Grote's biography has been included in Who's Who in America every year since 1979.
Related Speakers View all
---
Dan Rockwell

Author of the Leadership Freak Blog

Bob Chapman

CEO of Barry-Wehmiller & Bestselling Author of "Ever...

Jeff Boss

Former Navy SEAL and Author of "Navigating Chaos"

Leif Babin

Retired Navy SEAL & Purple Heart Recipient; NYT Be...

Jocko Willink

Retired Navy SEAL Officer & Author of "Extreme Owner...

Brian Fielkow

Business Leader, Author, Speaker and Consultant

John Sparks

CEO of Online ImageWorks. Considered One Of The Lead...

Brian Fanzo

Change Evangelist, Millennial Keynote Speaker & Podc...

George Zimmer

Founder & CEO, zTailors

Col. Parker Schenecker

Leadership & Ethics Speaker for "Because I Said I Wo...

Jonathan Beekman

Founder and CEO of Man Crates, Entrepreneur

Paul Martin

Former Prime Minister of Canada

Ed Young Jr.

Founder and Senior Pastor of Fellowship Church, Form...

Andrew Greenwell

CEO and Principal at Venture Sotheby's International...

John Stonestreet

President of The Chuck Colson Center for Christian W...

Theo Epstein

Former President of Baseball Operations for the Chic...

Adam Merrill

Vice President of Innovation for FranklinCovey, A Li...

Sandy Kennedy

CEO of the Saltire Foundation

Mark Owen

Former Navy SEAL & Author of "No Easy Day: The First...

Jared Kushner

Businessman, Investor, CEO of Kushner Companies, Hus...
More like Dick