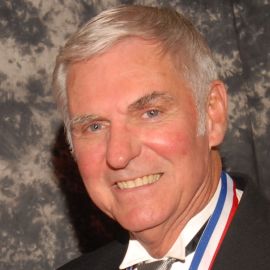 Dick Rutan, aviator and adventurer, made "the world's longest flight" in the airplane "Voyager," the first airplane to circumnavigate the globe without refueling. In realizing his dream, with desire and determination, Dick successfully completed the mission which would earn him world records, international fame and a place in the Smithsonian Institute.
On the morning of December 14, 1986, a fuel-laden Voyager took off on the history making flight. Nine days, three minutes and 44 seconds later, Dick set the storm-battered Voyager down on the dry lakebed at Edwards AFB in California, successfully completing a six year quest. Four days following the historic flight of the Voyager, President Ronald Reagan awarded Dick the Presidential Citizen's Medal of Honor at a special ceremony. The medal has been presented only 16 times in the history of the United States. The Voyager is now proudly suspended in the Smithsonian Air and Space Museum's "Milestones of Flight" gallery in our nation's capital.
In 1995, Dick Rutan attempted to make the first ever flight around the world in a balloon in the "Global Hilton" having received his balloon pilot's license in 1995. After three hours into the flight, the balloon's helium cell ruptured (due to a manufacturer's defect), and the attempt ended. A second capsule called "World Quest" was built with a new constrained helium lifting system (super pressure style). Although it held promise of success in balloon world flight, the World Quest project ended when a rival team captured the milestone in March 1999.
In 2001, Dick Rutan became the chief test pilot for XCOR and flew the first-ever rocket powered experimental long F7. In July 2002, Dick Rutan was inducted into the National Aviation Hall of Fame in Dayton, OH. This enshrinement honored Dick and three other Americans "whose heroism helped define 20th Century America."
In December of 2005, Dick set another world record. This record was set in the EZ-Rocket for the longest distance in a ground launched rocket powered aircraft. He flew from the Mojave Spaceport to the California City Airport. Touted as the "shortest long distance flight," this record is recognized by the National Aeronautics Association (NAA) and is in the record books.
Dick's love of flying began in his youth, and he received both his pilot's license and his driver's license on his 16th birthday. At 19, Dick joined the Air Force Aviation Cadet Program. He was commissioned Lieutenant and later received a Bachelor of Science Degree at the American Technological University through the Air Force Professional Education "Boot Strap" Program.
As a Tactical Air Command fighter pilot during most of his two decades in the Air Force, Rutan flew 325 combat missions in Vietnam, 105 of them as a member of a high-risk classified operation commonly known as the "MISTY's." Rutan had been awarded the Silver Star, five Distinguished Flying Crosses, 16 Air Medals and the Purple Heart.
Speech Topics
---
The World's Longest Flight
This 90-minute program details the dream; the desire and determination that made the Voyager project a historic success!
Books
---
Related Speakers View all
---
Story Musgrave, M.D.

Retired NASA Astronaut; Physician & Professor at Art...

J.R. Martinez

Actor, Best-Selling Author, Motivational Speaker, Ad...

Brian Holloway

Five-Time NFL All-Pro; Motivation & Team Building Ex...

Scott O'Grady

Former U.S. Air Force Captain, Fighter Pilot Who Sur...

Pat Williams

Motivational Speaker & Sports Executive; Senior Vice...

Shawn Harper

Former NFL Football Player, Successful Businessman &...

Jason Young

Former Senior-Level Manager at Southwest Airlines & ...

Thomas D. Jones, PhD

Former NASA Astronaut & Planetary Scientist; Author

Bill Capodagli

Author of "Innovate the Pixar Way: Business Lessons ...

Jim Morris

Known for His Brief MLB Career & Subject of Disney's...

Vince Papale

Former NFL Player & Inspiration for the Movie "Invin...

Oz Sanchez

Retired Marine & Two-time Paralympic Gold Medalist

Haydn Shaw

Expert in Generational and Cross-functional Roles, C...

Vince Poscente

Former Olympic Speed Skier, Leadership & Sales Exper...

Rob Waldo Waldman

Decorated Fighter Pilot; Power of Relationships & Tr...

Jim Abbott

Former One-Handed Major League Baseball Pitcher

Amelia Rose Earhart

Youngest Woman to Fly Around the World in a Single E...

Stedman Graham

Chairman & CEO of S. Graham & Associates, Leadership...

Coach Ken Carter

Coach, Author, Educator & Inspiration for the Film "...

Yvonne Cagle

NASA Management Astronaut & Retired U.S. Air Force C...
More like Dick