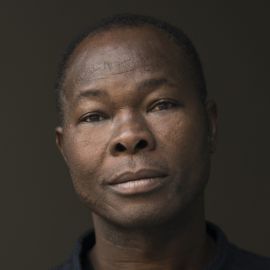 The internationally-acclaimed architect Diébédo Francis Kéré garnered critical praise from the beginning of his architectural practice when awarded the prestigious Aga Khan Award for Architecture in 2004 for his first-ever building -- a school he designed, raised the funds for and realized in collaboration with the residents of his native Gando, Burkina Faso.
Kéré has gone on to become one of the most distinguished contemporary architects thanks to his pioneering of a communal approach to design and his commitment to sustainable materials as well as modes of construction. Inspired by a curiosity for the particularities of any given locality and its social tapestry, he has gathered a diverse, agile team at his Berlin-based Kéré Architecture office, to take on projects across four continents. Most prominently, these include his designs for the Burkina Faso National Assembly, the Lycée Schorge Secondary School, the Léo Surgical Clinic & Health Centre, the 2017 Serpentine Pavilion and Xylem, the pavilion for Tippet Rise Art Center.
Underpinning his architectural practice, are his past and current teaching engagements at TU München, the Harvard Graduate School of Design, the Accademia di Architettura di Mendrisio, and Yale University, as well as his participation in solo and group exhibitions including at the Venice Biennale of Architecture, the Museo ICO in Madrid, the Architekturmuseum in Munich, and the Philadelphia Museum of Art.
Videos
---
Related Speakers View all
---
David Adjaye

Renowned Architect; Lead Designer of The National Mu...

Rahul Mehrotra

Founder Principal of RMA Architects; Professor of Ur...

Walter Hood

Professor of Landscape Architecture & Environmental ...

Vishaan Chakrabarti

Architect & Author of "A Country of Cities: A Manife...

Deanna Van Buren

Design Director & Co-Founder of Designing Justice + ...

Damon Rich

Co-Founder of Hector, Designer & Urban Planner

Claire Weisz

Founding Principal at WXY Architecture + Urban Design

Alissa Walker

Urbanism Editor, Gizmodo at Gawker Media

Jake Layes

Director, Global Cleantech & Entrepreneur Impact, Au...

Alejandro Aravena

Urban Architect; Executive Director of Elemental S.A.

Matthew Luhn

Former Pixar Animator, Story Artist, Creativity Expe...

Charlie Cannon

Architect & Designer; Head of Industrial Design Depa...

Daan Roosegaarde

Artist & Founder of Studio Roosegaarde

Ed Mazria

Internationally Recognized Architect, Author, Educat...

Frances Anderton

Host of "DnA: Design and Architecture"; Producer for...

Peter Calthorpe

Architect, Urban Designer & Urban Planner; Author of...

Dan Phillips

American Designer and Builder; Founder of The Phoeni...

George Elvin

Green Innovation Speaker & Author

Gwynne Pugh

Principal of Gwynne Pugh Urban Studio; Expert on Arc...

Diane Hoskins

Co-CEO of Gensler; Thought Leader on Design Innovation
More like Diébédo