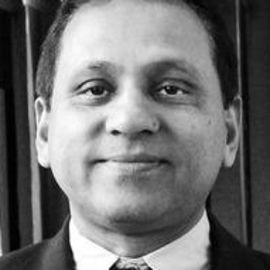 Dilip Ratha
Economist & Remittances Expert
Dilip Ratha is Manager, Migration and Remittances Unit and Head, Global Knowledge Partnership on Migration and Development (KNOMAD) in the Development Prospects Group of the World Bank. He is the focal point for the World Bank's Migration Working Group and the Diaspora Bond Task Force, and a co-coordinator of the (G8) Global Remittances Working Group. According to the New York Times, "No one has done more than Mr. Ratha to make migration and its potential rewards a top-of-the-agenda concern in the world's development ministries." Besides migration and remittances, Dilip's research reflects a deep interest in innovative financing for poor countries: diaspora bonds, future-flow securitization, shadow sovereign ratings and South-South foreign direct investment. He is currently the chair of the Consortium Advisory Group (and previously the founding CEO) of the Migrating out of Poverty Research Consortium based in the University of Sussex. Prior to joining the World Bank, he worked as a regional economist for Asia at Credit Agricole Indosuez, Singapore; as an assistant professor of economics at the Indian Institute of Management, Ahmedabad; and as an economist at the Policy Group, New Delhi. He has a Ph.D. in economics from the Indian Statistical Institute, New Delhi where he also worked as a visiting lecturer and helped build a CGE model of the Indian economy. Dilip hosts People Move, a popular blog. His TED Talk "The hidden force in global economics: sending money home" has been viewed over a million times.
Videos
---
Related Speakers View all
---
Andrew Schrage

Andrew Schrage, Money Crashers Personal Finance

Charles Robertson

Global Chief Economist, Head of Macro-strategy Renai...

Jacques Attali

French Economist, Business Leader

Veronique de Rugy

Senior Research Fellow at the Mercatus Center at Geo...

Evan Schnidman

Founder & CEO of Prattle; Financial Technology Exper...

Ryan McDevitt

Professor of Economics at the Fuqua School of Busine...

Jeffrey M. Lacker

Distinguished Professor at Virginia Commonwealth Uni...

Vincent Reinhart

Managing Director, Chief Economist & Macro Strategis...

Stephen D. Williamson

Professor & Stephen A. Jarislowsky Chair in Central ...

Manal Elattir

Co-Founder & CEO of Anarouz

Branko Milanovic

Lead Economist

Richard Zeckhauser

Harvard University Professor of Political Economy; S...

Emi Nakamura

Chancellor's Professor of Economics at the Universit...

Thomas Woods

Leading Libertarian Thought Leader, American Histori...

Suman Bery

Chief Economist, Shell Oil Company (Festival Underwr...

Mark Blyth

Author, Researcher, Educator, and Consultant on Inte...

Afra Raymond

Afra Raymond is President of the Joint Consultative ...

Timothy Bartik

The author of "Investing in Kids," Timothy Bartik st...

Raj Chetty

Professor of Economics at Harvard University and Dir...

John Lipsky

Economist & Distinguished Scholar at Johns Hopkins U...
More like Dilip