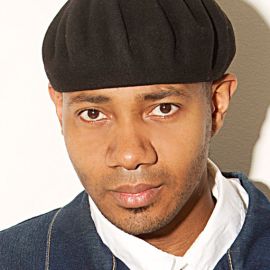 DJ Spooky
DJ, Hip-Hop Artist & Writer
Paul D. Miller is a conceptual artist, writer, and musician working in New York. His written work has appeared in The Village Voice, The Source, Artforum, Raygun, Rap Pages, Paper Magazine, and a host of other periodicals. His first collection of essays, Rhythm Science was included in several year-end lists of the best books of 2004, including the Guardian and Publishers Weekly. Sound Unbound, an anthology of writings on sound art and multi-media by contemporary cultural theorists followed it.
Miller's work as a media artist has appeared in a wide variety of contexts such as the Whitney Biennial; The Venice Biennial for Architecture; the Ludwig Museum in Cologne, Germany; Vienna; The Andy Warhol Museum in Pittsburgh and other museums and galleries. His 2004 solo show at the Paula Cooper Gallery in New York, "Path Is Prologue," echoed his live music/theater/film performance. "DJ Spooky's Rebirth of a Nation," continues to tour globally.
Miller is most well known under the moniker of his "constructed persona" as "DJ Spooky that Subliminal Kid," recording a huge volume of music and collaborating with a wide variety of musicians and composers such as Butch Morris, Kool Keith, a.k.a. Doctor Octagon, Pierre Boulez, Killa Priest from Wu-Tang Clan, Steve Reich, Yoko Ono, and Thurston Moore from Sonic Youth. He also composed and recorded the music score for the Cannes and Sundance Award winning film Slam.
In 2006, Miller was given access to the vaults of the classic reggae label Trojan Records, resulting in his landmark compilation release In Fine Style, DJ Spooky Presents 50,0000 Volts of Trojan Records!!! Prior to that CD, he released Drums of Death, featuring Dave Lombardo of Slayer, Chuck D. of Public Enemy, Vernon Reid of Living Color, and Jack Dangers of Meat Beat Manifesto. His other recent albums include Optometry, a jazz project featuring Matthew Shipp, William Parker, Joe Mcphee, Carl Hancock Rux, Daniel Bernard Roumain, and High Priest; Dubtometry, featuring Lee "Scratch" Perry and Mad Professor; and Riddim Clash, a collaboration with Twilight Dub Sound System. He also recorded a two-CD megamix, Celestial Mechanix, featuring eleven DJ Spooky remixes.
Miller also collaborated with Bernard Tschumi, Dean of Columbia University's architecture department, and author of Praxis: Event Cities on a piece that debuted at the Venice Bienniale of Architecture 2000. Miller is also co-publisher along Steve Cannon of A Gathering of Tribes – a periodical dedicated to new works by writers from a multicultural context and he was the first Editor-at-Large of the cutting edge digital media magazine, Artbyte: The Magazine of Digital Culture.
Videos
---
Related Speakers View all
---
Tyrese Gibson

R&B Singer and Actor; Fast and Furious Franchise

David Banner

Rapper, Record Producer, Activist & Actor

Talib Kweli

Rapper, Emcee, Activist & Entrepreneur

LL Cool J

Hip-Hop Artist, Host of "Lip Sync Battle" & Actor Kn...

James Spooner

Director & Filmmaker, Afro-Punk

DJ Drama

America's Top Hip-Hop DJ

Common

Award-Winning Artist, Actor, Producer, Musician & Wr...

The Color Orange

Cross-Cultural Performance

Ursula Rucker

Spoken Word Artist

Nas

Grammy-Nominated Rapper, Songwriter & Record Producer

Kevin Powell

Writer, Humanitarian, President of BK Nation

Lisa Cortes

Film and Music Producer, Known for Film "Precious"

John Legend

EGOT Winning Musician, Producer & Philantropist

Bruce George

Poet / Activist

Branford Marsalis

Grammy Award-Winning Jazz Musician Who Is Passionate...

Mos Def

Hip-Hop Artist & Actor

MK Asante

Author, Filmmaker and Professor

Will Power

Actor, Rapper, Playwright & Educator

Damian Marley

Reggae Artist; Son of Bob Marley

Vanessa Williams

Grammy Nominated Singer; Actress; Known For "Soul Fo...
More like DJ