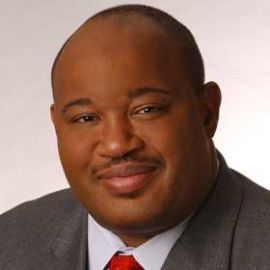 Dominic Carter
FiOS TV Reporter Dominic Carter as a victim of Severe Child Abuse/Foster Care/Child Sexual Abuse speaks throughout the Country
Dominic Carter is a TV journalist, for Verizon FiOS News in New York, and has interviewed some of the most influential political figures in the nation. But Dominic carried a deep dark secret for most of his life that almost destroyed him. Dominic as a child, was sexual abused by his own mother who suffered from severe Mental Illness as a "Chronic Paranoid Schizophrenic," and she spent years in and out of State Psychiatric Hospitals. Once secretive about his abusive past, Dominic now freely shares his story around the globe, and his life has been profiled in Oprah Winfrey's Magazine. Dominic has overcome seemingly insurmountable odds in life. Dominic grew up poor, and without a father in New York's notorious South Bronx Housing Projects. The only man in family, his grandfather, was a heroin addict. Dominic has not lived an easy life. It has been a life of tremendous highs and devastating lows, but a life of perseverance, and redemption. Dominic tells his inspiring story in his book, "No Momma's Boy: How I Let Go of My Past and Embraced the Future."
Click Here to register and get pricing on booking Dominic Carter for your next event!
Speech Topics
---
Child Abuse/Foster Care - Recovering from the Shame, the Guilt, and the embarrassment
Dominic Carter speaks all over America and Canada on Child Abuse, Child Sexual Abuse, Foster Care, Mental Illness, Motivating Young People, and motivating college students. (At Risk Programs) Dominic Carter is quite compelling with his interactive address, and almost always, receives a standing ovation. No Momma's Boy, his memoir, was released to critical acclaim. Newsday said, "No TV anchor has ever produced a memoir as grippingly honest as this."
Links
---
News
---
Washington Post
Former Clinton debate moderator Dominic Carter on Hillary Clinton:
Get notified of new talks and events.
Follow
Related Speakers View all
---
Mel H. Abraham

He has a riveting presence, created by his absolute ...

Milt Abel

Milt Abel is a corporate-clean stand-up comedian tha...

Mike Abrashoff

Former Commander of USS Benfold and Author of "It's ...

J.J. Abrams

Director, Producer, Writer, Author; Known for His Wo...

Melvin Adams

Former Harlem Globetrotter with a Passion for Reachi...

Kirk Acevedo

Actor Best Known for His Roles on "Dexter," "Band of...

Jose Antonio Abreu

Founder of El Sistema, Which Helps Venezuelan Childr...

Carol Adelman

Carol Adelman is a senior fellow and director of Hud...

Newton Aduaka

Newton Aduaka's award-winning Ezra, told through the...

Janus Adams

Award-Winning Journalist

Jenoyne Adams

African-American Novelist.

Khandi Alexander

Khandi Alexander (born September 4, 1957) is an Amer...

Shaun Alexander

NFL Great

Laila Ali

Undefeated 4 Time World Champion Boxer 24-0 with 21 ...

Alan Alda

Actor, Writer, Science Advocate, and Director

Adewale Akinnuoye-Agbaje

Fashion Model & Actor Known for "Lost," "Oz" & "Suic...

Jane Alexander

Actress and Former Director of the National Endowmen...

Bruce Aitken

Bruce Aitken was born in Invercargill New Zealand wh...

Gary Aldrich

On Independence Day, 1996, former FBI Agent Gary Ald...

Marilyn Albert

Dr. Marilyn Albert received her PD degree in Physiol...
More like Dominic