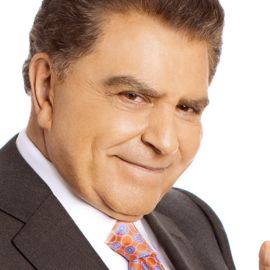 Don Francisco
Chilean television host, and a popular personality on the Univision network
Don Francisco was born on December 28, 1940 in Talca, Chile as Mario Luis Kreutzberger Blumenfeld. As a young man, Don left Chile and traveled to New York to become a tailor, but upon his arrival took an immediate interest in television.
In Chile, television was merely just beginning, so Don took his Americanized ideas and concepts back overseas in 1962 to create the variety TV show Sabados Gigantes. It became an instant success with the Chilean public, and in 1986 the show began production in Miami, Florida under the name Sabado Gigante. Don Francisco was able to host the show and he soon became a household name among Latino families all over America.
The show was three hours long and lasted over 40 years. In it, Don hosted contests, comedy, and interviews with such famous faces as Roberto Duran, Cristina Saralegui, Sissi, and Charytin. It also included a travel section in which Don was able to visit over 185 countries. Sabado Gigante ultimately became one of the most popular programs in the history of Spanish television.
In 2002, the show completed its 40th season, and Don made it clear that retirement was nowhere in his near future. With diabetes and weight issues, he is quite frank about his struggle to remain youthful and fit throughout his long career on the small screen. These days, Don's daughter Vivian hosts the Chilean version of the show, while he hosts the American version and continues to do the travel sections. A few of Don's other accomplishments include his hosting positions on the Chilean versions of Who Wants to Be a Millionaire? and Deal or No Deal. He also hosts a more serious interview-only show that airs in America on Wednesdays called Don Francisco Presenta. In September of 1991, Don put out yet another television show called Noches de Gigantes; this one was less successful, however, and only ran until 1992. Possibly his biggest accomplishment is that of his Teleton responsibilities, a televised benefit for disabled children that Don has promoted and hosted for over 30 years.