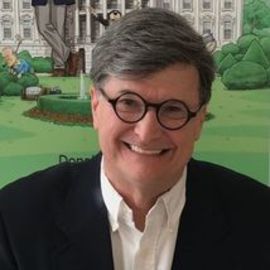 Donald M. Stinson
Author, Downstairs at the White House (The real-life story of a Teenager, an Oval Office, and a Ringside Seat to Watergate)
Don Stinson is the author of the best-selling memoir, Downstairs at the White House. At the age of 17, he landed a job in the White House during Watergate, the biggest political scandal in American history. A truly insignificant member of the Nixon White House staff, he frequently loitered outside of the Oval Office to watch it unfold.
He was also a kid who did the same kind of harebrained things most teenagers do. Only steps away from the Oval Office, he fought with a foreign head of state for space in a restroom. He had Bob Hope and Charlton Heston as his ""wingmen"" one night. He devised a shortcut that tripped countless alarms and summoned an agitated band of Secret Service agents. He spilled ice water on Frank Sinatra. And that was just the small stuff.
Now a writer, speaker, and negotiation strategist, Stinson spent 29 years in the newspaper industry, including a decade as senior vice president/marketing of the Newspaper Division of Gannett Co., Inc. (best known for its flagship, USA TODAY), responsible for overseeing the advertising and circulation sales, marketing, and research operations of 100 U.S. daily newspapers. In 2005, he received the Newspaper Association of America's Lifetime Sales and Marketing Leadership Award.
After the collapse of the Soviet Union, he worked with newspapers in Russia, Slovakia, and Poland to establish a free and independent press. His accomplishments included being held hostage in a smelting plant, sleeping in an insane asylum guarded by sheep herders, and fighting a goat defending a lavatory door on Russian airline Aeroflot. (The goat won.)
Stinson is an honorary member of the Union of Russian Journalists, a Fellow of the Strategic Planning Society (United Kingdom), a member of the President's Society of the Nixon Library Foundation, the President's Council of the Gerald Ford Foundation, and the Honorable Order of Kentucky Colonels. He holds a B.A. from American University and credentials from M.I.T., Harvard Business School, and the Project on Negotiation at Harvard Law School.
Videos
---
Speech Topics
---
Entertainment, Politics, Personal Growth (Attitude), American History
Related Speakers View all
---
Jonathan Tasini

Political & Economic Strategist, President of the Ec...

Kevin Powell

Writer, Humanitarian, President of BK Nation

Juan Williams

New York Times Best-Selling Author, Fox News Politic...

Patrick Buchanan

Former Communications Assistant for the President, C...

Frank Luntz

Political Pollster & Communication Expert

Rich Lowry

Editor in Chief of the National Review

John Kasich

Former Governor of Ohio

Laura Ingraham

Political Commentator, Television Host & Journalist

Donna Brazile

Veteran Political Strategist, Bestselling Author, Fo...

Michael Beschloss

Presidential Historian, New York Times Columnist & B...

Katy Tur

NBC News Correspondent, Anchor of "MSNBC Live", Aut...

Holly Bailey

National Correspondent for Yahoo News; Former Newswe...

Karine Jean-Pierre

Author of "Moving Forward"; Former Chief Public Affa...

Paul Brandus

White House Correspondent & Award-Winning Author of ...

Edward Klein

Former Editor of Newsweek & The New York Times Magaz...

Todd Purdum

Senior writer at POLITICO and a contributing editor ...

Dr. Scilla Elworthy

Founder of the Oxford Research Group

Jason Mattera

Emmy-Nominated Journalist, Conservative Activist & A...

Janet Folger Porter

Pro-Life Speaker, President & Founder of Faith2Action

Bill O'Reilly

Host of "The O'Reilly Factor," Best-Selling Author &...
More like Donald