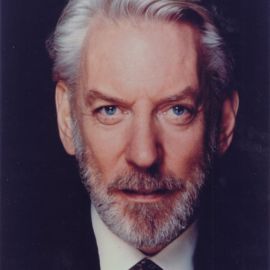 A native of Canada, Sutherland was born in New Brunswick on July 27, 1934. Raised in Bridgewater, Nova Scotia, he took an early interest in the entertainment industry, becoming a radio DJ by the time he was fourteen. While an engineering student at the University of Toronto, he discovered his love for acting and duly decided to pursue theatrical training. An attempt to enroll at the London Academy of Music and Dramatic Art was thwarted, however, because of his size (6'4") and idiosyncratic looks. Not one to give up, Sutherland began doing British repertory theatre and getting acting stints on television series like The Saint.
In 1964 the actor got his first big break, making his screen debut in the Italian horror film Il Castello dei Morti Vivi (The Castle of the Living Dead). His dual role as a young soldier and an old hag was enough to convince various casting directors of a certain kind of versatility, and Sutherland was soon appearing in a number of remarkably schlocky films, including Dr. Terror's House of Horrors and Die! Die! Darling! (both 1965). A move into more respectable fare came in 1967, when Robert Aldrich cast him as a retarded killer in the highly successful The Dirty Dozen. By the early '70s, Sutherland had become something of a bonafide star, thanks to lead roles in films like Start the Revolution without Me and Robert Altman's MASH (both 1970). It was his role as Army surgeon Hawkeye Pierce in the latter film that gave the actor particular respect and credibility, and the following year he enhanced his reputation with a portrayal of the titular private detective in Alan J. Pakula's Klute.
It was during this period that Sutherland became something of an idol for a younger, counter culture audience, due to both the kind of roles he took and his own anti-war stance. Offscreen, he spent a great deal of time protesting the Vietnam War, and, with the participation of fellow protestor and Klute co-star Jane Fonda, made the anti-war documentary F.T.A. in 1972. He also continued his mainstream Hollywood work, enjoying success with films like Don't Look Now (1973), The Day of the Locust (1975), and Fellini's Casanova (1976). In 1978, he won a permanent place in the hearts and minds of slackers everywhere with his portrayal of a pot-smoking, metaphysics-spouting college professor in National Lampoon's Animal House.
After a starring role in the critically acclaimed Ordinary People (1980), Sutherland entered a relatively unremarkable phase of his career, appearing in one forgettable film after another. This phase continued for much of the decade, and didn't begin to change until 1989, when the actor won raves for his starring role in A Dry White Season and his title role in Bethune: The Making of a Hero. He spent the 1990s doing steady work in films of widely varying quality, appearing as the informant who cried conspiracy in JFK (1991), a Van Helsing-type figure in Buffy The Vampire Slayer (1992), a wealthy New Yorker who gets taken in by con artist Will Smith in Six Degrees of Separation (1993), and a general in the virus thriller Outbreak (1995). In 1998, the actor did some of his best work in years (in addition to the made-for-TV Citizen X (1995), for which he won an Emmy and a Golden Globe) when he starred as a track coach in Without Limits, Robert Towne's biopic of runner Steve Prefontaine. In 2000, Sutherland enjoyed further critical and commerical success with Space Cowboys, an adventure drama that teamed the actor alongside Tommy Lee Jones, Clint Eastwood, and James Garner as geriatric astronauts who get another chance to blast into orbit.
Videos
---
Related Speakers View all
---
Alexander Ludwig

Actor Known for his Role in "The Hunger Games"; Curr...

Sam Claflin

Actor; Plays Finnick in "The Hunger Games: Catching ...

Stanley Tucci

Actor, Writer, Film Producer, and Film Director

Josh Hutcherson

Film and TV Actor; Best Known for his Role in "The H...

Kiefer Sutherland

Golden Globe Winning Actor, Known for "Stand By Me"

Pierce Brosnan

Actor, Producer & Activist; Best Known for His Role ...

Orlando Bloom

Actor & Goodwill Ambassador

Dennis Quaid

Actor / Patient Safety Advocate

Michelle Pfeiffer

American Actress & Singer

Matthew Perry

Actor & Recovery Advocate, Known for "Friends"

Bradley Cooper

Actor Known for "Silver Linings Playbook," "Serena" ...

Ryan Reynolds

Actor Known for "The Proposal" & "Deadpool"

Josh Hartnett

Actor; Known for his Roles in "Pearl Harbor" and "Th...

Hugh Laurie

Actor Best Known for His Role in the Medical Drama "...

Diane Keaton

Academy Award-Winning Actress & Author

Sarah Michelle Gellar

Actress; Known for "The Grudge" and "I Know What You...

Jason Segel

Writer & Actor Known for His Role in "How I Met Your...

David Schwimmer

Actor, Director, Producer, Voice Actor and Comedian

Bill Murray

Emmy Award-Winning Comedic Actor; "SNL" and "Ghostbu...

Sir Anthony Hopkins

Oscar-Winning Film, Stage & Television Actor; Known ...
More like Donald