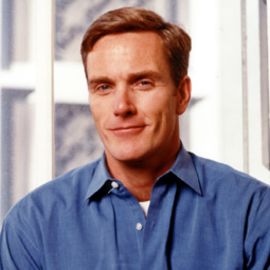 Donald Van de Mark has been a television reporter and anchorman, an Internet entrepreneur and a public speaker. Now he's an author with "The Good Among the Great: 19 Traits of the Most Admirable, Creative and Joyous People."
Among his television credits, Van de Mark was Executive Producer, Editor and host of two public broadcasting TV series, "Great Entrepreneurs" and "Great Leaders," where he profiled giants of business, including Andy Grove of Intel, Jack Welch of GE, Martha Stewart, Stephen Covey and many more. These programs can be seen currently through Comcast's pay per view offerings.
From 1995 to 1999, Van de Mark was instrumental in the launch of the first digital, non-linear television network, CNNfn. There, he co-created and anchored four original television shows: "Washington Unwrapped," "The Media Show," "Biz Buzz" and "Entrepreneurs Only." Van de Mark edited all four shows. With Terry Keenan, Van de Mark also co-anchored and edited CNNfn's premier market program, "Street Sweep." Additionally, he edited and co-anchored "MoneyWeek" on CNN. Throughout this time, Van de Mark was also a correspondent and a substitute anchor on "Moneyline." On August 31, 1998 Van de Mark broke the story of Long Term Capital Management's near collapse; an event that shook global currency, bond and equity markets.
Prior to CNN and CNNFn, Van de Mark moved "off-air" when he made his first foray into the corporate boardroom and the embryonic world of e-Commerce. On August 30, 1993, he chased down QVC Inc.'s chairman and CEO Barry Diller as he emerged from CNN's studio. Rebuffed for an interview, Van de Mark nonetheless began a dialogue with Diller that culminated in his joining QVC as director of corporate communications. Reporting directly to the chairman and CEO, Van de Mark co-wrote with Diller speeches on interactivity and e-Commerce. He managed investor communications and news coverage as QVC made two widely covered takeover attempts: a $10 billion run at Paramount Communications and a scuttled $6.4 billion merger with CBS Inc.
Prior to QVC, Van de Mark spent five years in Washington, DC reporting on the political economy as the National Correspondent for CNBC. He launched his career in communications in 1981 at the CBS Broadcast Center in New York City. He became a desk assistant at WCBS-TV News. From there he joined Business Times on ESPN.
Van de Mark has a Bachelor of Arts degree from Tufts University, where he majored in Political Science.
Van de Mark graduated from St. George's School in Newport, Rhode Island. He attended Upper Canada College in Toronto.
Videos
---
Speech Topics
---
Your Personal Payoff
Some people are not just successful, they're extraordinary. Moreover, these people share many of the same personality traits. In this presentation you will learn to identify and cultivate three of the same traits: creativity, exuberance, and transcendence. Includes examples from the lives of best-selling author Julia Cameron, former GE CEO Jack Welch, polar explorer Ann Bancroft, and other leaders.
Interacting Effectively
Great leaders in every field share three key personality characteristics that help them interact effectively with others—they're egalitarian, empathic, and dutiful. Discover how you can develop these traits and achieve more success in all facets of life. Includes examples and exclusive video clips.
Assessing the World Clearly and Efficiently
Learn to recognize and develop traits of the most admirable, creative, and joyous people. This riveting presentation, full of firsthand accounts of leaders from many fields, will show you how to perceive others and circumstances more clearly and make better choices. See how to become more experiential, realistic, and detached. And also find out how to value the process of your work as much as your performance.
Developing a True, Whole Self
Become a more admirable, creative, and joyous person. You'll not only learn how to reach your goals, you'll also discover how to "delight in the doing." With video clips of exclusive interviews with leaders like holistic medicine pioneer Dr. Andrew Weil, advertising legend Shelly Lazarus, former U.S. Senator Bill Bradley, and more.
Related Speakers View all
---
Chris Copeland

Chris Copeland is CEO of GroupM Search

Chris Sacca

Google & Twitter Innovation Guru

Ted Turner

Media Mogul & Philanthropist

Cal Thomas

Syndicated Columnist, Pundit, Author & Radio Comment...

Jeff Taylor

Founder of Monster.com & Eons.com

Donny Deutsch

Television Host & Chairman at Deutsch Inc.

Mort Crim

It's time to hear some good news about ourselves and...

Jim Cramer

Television Personality, Journalist, Financial Analys...

John Brandt

Former Editor-in-Chief, IndustryWeek & Chief Executi...

Matt Mayberry

Former NFL Linebacker, Columnist, Author

Gerard Baker

Editor-At-Large & Former Editor-In-Chief at Dow Jone...

Dan Frommer

Founder at City Notes

Dennis K. Berman

Business Editor of the Wall Street Journal

James Citrin

Partner, Spencer Stuart & Author on Leadership and C...

Chris Seper

Digital Media Entrepreneur, Founded MedCity Media, P...

Jim Bankoff

Chairman & CEO of Vox Media

Steve Anderson

Leading Authority on Insurance, Technology, Producti...

Jeff Fager

Jeff Fager is the Chairman of CBS News and the Execu...

Chris Licht

Executive Producer of CBS This Morning, VP of Progra...

Leigh Rubin

Syndicated Cartoonist.
More like Donald