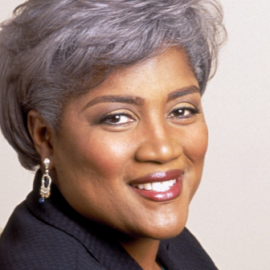 Donna Brazile
Veteran Political Strategist, Bestselling Author, Former Interim Chair of the Democratic National Committee & FOX News Contributor
Veteran political strategist Donna Brazile is the former interim Chair of the Democratic National Committee (DNC), the author of the New York Times bestseller Hacks: The Inside Story of the Break-Ins and Breakdowns That Put Donald Trump in the White House and the 2004 best-selling memoir Cooking with Grease: Stirring the Pots in American Politics. She is a co-author of "For Colored Girls Who Have Considered Politics," which won the 2019 NAACP Image Award for Outstanding Literary Work, Nonfiction.
Ms. Brazile has devoted her life to working for progressive change, responsible governance, and the advancement of all people in a society that is fair and equitable. Brazile first got involved in politics at the age of nine when she worked to elect a City Council candidate who had promised to build a playground in her neighborhood; the candidate won, the playground was built, and a lifelong passion for political progress was ignited. Brazile has worked on every major presidential campaign since 1976 and in 2000 Ms. Brazile became the first African American woman to serve as the manager of a major party presidential campaign, running the campaign of former Vice President Al Gore.
Ms. Brazile loves working with young people, encouraging them to vote, to run for office, and to work within the system to strengthen it. She has lectured at over 200 colleges and universities across the country on such topics as "Inspiring Civility in American Politics," "Race Relations in the Age of Obama," "Why Diversity Matters," and "Women in American Politics." In 2013, Ms. Brazile was appointed by President Obama to serve on the J. William Fulbright Foreign Scholarship Board. She is also the proud recipient of more than ten honorary doctorate degrees from major colleges and universities, including her alma mater Louisiana State University.
In October 2017, Ms. Brazile was the recipient of the W.E.B Du Bois Medal, Harvard's highest honor in African American studies. Brazile has served as an adjunct professor at Georgetown University since 2002 and spent the fall of 2017 serving as a Joan Shorenstein fellow in Media, Politics and Public Policy at the Harvard Kennedy School. Howard University has appointed Ms. Brazile as the Gwendolyn S. and Colbert I. King Endowed Chair in Public Policy for two consecutive academic years. In this capacity, she is responsible for developing and hosting a lecture series to engage the Howard community on several subjects, including politics, voting, criminal justice reform and civility.
O, The Oprah Magazine chose Ms. Brazile as one of its 20 "remarkable visionaries" for the magazine's first-ever O Power List. In addition, she was named among the 100 Most Powerful Women by Washingtonian magazine, Top 50 Women in America by Essence magazine, and received the Congressional Black Caucus Foundation's highest award for political achievement. In 2016, Ms. Brazile was awarded Wonk of the Year from the Kennedy Political Union at American University. In March 2018, Black Enterprise awarded Ms. Brazile with the Barbara Graves Legacy Award.
Ms. Brazile has worked passionately on behalf of her beloved hometown of New Orleans. In the aftermath of the two catastrophic hurricanes that devastated the Gulf region, Ms. Brazile was appointed by former Governor Kathleen Blanco to serve on the Louisiana Recovery Board to work for the rebuilding of the state and to advocate for the Gulf recovery on the national stage. Ms. Brazile was also appointed by New Orleans Mayor Mitch Landrieu to serve on the Tricentennial Commission.
Ms. Brazile is a contributor to Fox News and was formerly a contributor to ABC News and CNN. Ms. Brazile was the recipient of a Daytime Emmy Award for Outstanding Daytime Program, Good Morning America (2016-2017) in connection with her work with ABC. She has also been a syndicated newspaper columnist for Universal U'Click and a prolific writer with articles appearing in nearly every major newspaper in the nation. She moonlights as an actress and is especially honored to have made three cameo appearances on CBS's The Good Wife, and two cameo appearances on Netflix's series House of Cards. She most recently appeared on BET's Being Mary Jane. Ask her and she'll tell you that acting, after all, is the key to success in politics.
Ms. Brazile is the founder and director of Brazile & Associates LLC, a general consulting, grassroots advocacy, and training firm based in Washington, DC.
Speech Topics
---
Political Outlook: A Comprehensive Picture of What's Going on in Washington
Always candid and insightful, Donna Brazile brings a refreshing perspective and practical sensibility to the Obama Administration and Congress. Her presentations provide a comprehensive picture of what's going on in Washington—from analysis of the current political environment to hot-topic legislation. Named by Washingtonian as one of the "100 Most Powerful Women," Brazile draws on her insider knowledge to provide audiences with a the latest development of an ever-shifting political landscape, the critical issues facing America and what their impact means for our future.
Women in American Politics: Are We There Yet?
Black Leadership: Past, Present and Future
Cooking with Grease: Stirring the Pots in American Politics
Political Perspective.
Donna Brazile, the veteran political strategist, delivers an in-depth look at the Obama Administration, the state of the current Congress, and the country's current political landscape. She analyses the hot political topics of the day, using behind-the-scenes insight gained from her days on the campaign trail. Brazile's balanced scrutiny of politics and current events, from the view-point of a media veteran, gives audiences an entertaining and edifying experience they won't soon forget.
Passion for Politics.
Donna Brazile delivers anecdotal stories stemming from her experiences, such as working on every presidential campaign since 1984, heading the Gore-Lieberman campaign, serving as chief of staff and press secretary to Congresswoman Eleanor Holmes Norton (D-DC), serving as chair of the Democratic National Committee's Voting Rights Institute, and being a Democratic political strategist. Brazile offers a comprehensive picture of the political environment, she gives an original perspective on the trends shaping and driving the mood of the country.
Point/Counterpoint with Dana Perino.
In this presentation, Donna Brazile pairs up with former White House press secretary and current political commentator Dana Perino to offer perspectives from opposite sides of the aisle on today's hot-button political issues. Both women are media savvy, appearing regularly on network news programs, and both have high-level practical political experience. Perino worked for President Bush, and Brazile worked for Al Gore's presidential campaign. These two highly-regarded strategists make up a power duo that debates the issues that affect elections and shape the political landscape.
A Conversation with Donna Brazile and Mary Matalin
Together, two of the most celebrated women in politics, Mary Matalin, former Republican presidential advisor, and Donna Brazile, veteran Democratic political strategist, draw on over 50 years combined in politics and a 30-year close friendship to share with audiences an entertaining, candid and sharp analysis of Washington politics and the gut issues that surround the 2016 race for the White House.
Related Speakers View all
---
Nikki Giovanni

Poet, Educator & Best-Selling Author

Maya L. Harris

Influential Voice at the Intersection of Politics, P...

Angela Davis

Feminist, Social Activist, Professor & Writer

Bakari Sellers

Author, Attorney, Political Commentator & Youngest A...

DeRay Mckesson

Civil Rights Activist & Host of "Pod Save The People"

April Ryan

White House Correspondent, CNN Political Analyst & D...

Angela Rye

Attorney, Principal & CEO of IMPACT Strategies, CNN ...

Joy-Ann Reid

MSNBC Correspondent, Political Author & Former Host ...

Hill Harper

Actor, Author & Philanthropist; Best Known For "CSI:...

Julianne Malveaux

Author, Economist, Founder & Thought Leader Economic...

Van Jones

CEO of REFORM Alliance, CNN host, Emmy Award-winning...

Wendy Davis

Lawyer & Democratic Politician

Shiza Shahid

Entrepreneur, Technologist, Investor, Impact Leader ...

Katty Kay

Lead Anchor for BBC World News & Best-Selling Author

Charles Blow

Visual Op-Ed Columnist for The New York Times; CNN C...

Tamika D. Mallory

Social Justice Leader & Movement Strategist

J.R. Martinez

Actor, Best-Selling Author, Motivational Speaker, Ad...

Baratunde Thurston

Futurist Comedian, Writer & Cultural Critic

Erin Gruwell

Founder & Executive Director of the Freedom Writers ...

Erin Brockovich

Consumer Advocate, Author, TV Host & Environmental A...
More like Donna