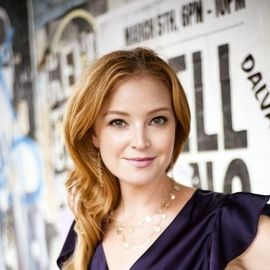 Dorian Howard
Co-Founder and CEO of Wade & Belle; Former VP of Production for Paramount Pictures; Former Creative Executive for New Line Cinema
Dorian Howard is the co-founder and one half of the sister duo behind Milk & Honey—an e-commerce platform that allows women to design their own shoes.
Launched in 2011, Milk & Honey has been featured in the New York Times, InStyle, InTouch, Lucky, The Huffington Post, PeopleStyleWatch and on TV shows including "The Today Show," "E! News," "The Nate Berkus Show" and countless local news segments. Milk & Honey shoes have graced the feet of celebrities including Ginnifer Goodwin, Emily Deschanel, Kate Mara, Busy Philipps, Amber Valletta, Whitney Cummings and more.
Starting off working from their dining room table (and countless coffee shops in Los Angeles), the Howard sisters bootstrapped their business to $1 million in sales, were accepted to Los Angeles' prestigious accelerator program Launchpad LA, and have now shipped shoes to more than 25 different countries.
Prior to diving into the exciting waters of e-commerce, Dori worked at Paramount Pictures, New Line Cinema, Miramax Films and MTV. Her feature film projects included working on early stage development of the Oscar award film "The Fighter," starring Mark Wahlberg and Christian Bale (worldwide box office of $129 million) as well as selling the feature film script "The Proposal" to Disney, working very closely with the writer to shape the script to land lead actors Sandra Bullock and Ryan Reynolds. On a budget of $40 million, the film grossed $163 million domestically.
Her last stop in Hollywood was as Vice President of Production at Paramount Pictures. Produced films ranged in budget from $40 million to $170 million and included rebooting the "GI JOE" franchise that grossed over $300 million worldwide and relaunched the franchise. She also worked closely with Nickelodeon to adapt one of their top animated series into the feature film "The Last Airbender," directed by M. Night Shyamalan and grossing $319 million worldwide.
Launching Milk & Honey married an enthusiasm for e-commerce and entrepreneurship with a lifelong passion for footwear and style. Dori is based in Milk & Honey's Los Angeles office and spearheads user acquisition, marketing, business development, partnerships, publicity and customer relations.
Originally from New Jersey, Dori graduated Magna Cum Laude from NYU.
Videos
---
Speech Topics
---
How To Become a Female Entrepreneur and Rapidly Grow a Business
Now that women everywhere are "leaning in"—what does this actually mean for women in the male dominated tech sphere? In this no holds barred presentation, Dori shares the story of how she managed to find success in the start up world where everyone seemed to be a Harvard or Facebook alum. Combining wit, experience and practicality, Dori highlights the challenges women face as they seek to launch their own companies in these uncertain times and the tools needed to break down the door into the boys club for good. Innovation never looked so good in heels.
Writing The Sequel: It's Never Too Late For a Second Career
After landing her dream job in Hollywood, Dori quickly realized that the world of blockbusters and celebrities wasn't capable of yielding the personal and professional fulfillment she had hoped it might. Armed with nothing more than an unwavering belief in herself and relentless commitment to getting a job done, Dori took a leap into the great unknown to find her true calling. In this inspirational talk, Dori addresses the beauty of change and why it is never too late to start your second act. Her passion and success will hand you the confidence to get out into the world and write your own future.
Breaking Into Hollywood
Breaking into Hollywood is no easy feat. However, everyday people are getting these jobs, so there is no reason not to be among them! Pulling from her 12+ years in the entertainment business, from MTV intern to Paramount Vice President, Dorian Howard knows how to get started. All too often, interviews and lectures from those in the business focus on the "glory days"—but only after they've made it to the top. But how does one get started as a 21 year old student with no experience? In this talk, Dorian takes audiences through the process from the very first steps. She addresses questions such as: What should you major in? What do companies look for in hiring interns? Do you really need a cover letter? How do you stand apart from the crowd? Should you start a YouTube channel? Make a student film? Dorian tailors this lecture to the specific interests of the audience, but no matter what aspect she covers, every student walks away with very tangible advice and action points.