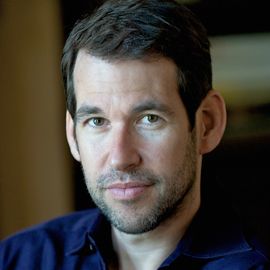 Doug Ellin, Creator and Executive Producer of Entourage moved to Hollywood from his native New York in 1990 to become a stand-up comedian. While working the circuit at comedy club mainstays including The Improv and The Comedy Store, Ellin took a position in the mailroom of New Line Cinema. It was through this connection to New Line Production Head, Michael DeLuca, that Ellin's career was able to take off, albeit in a different direction.
After seeing Ellin's stand-up routine, DeLuca partially funded Ellin's comedic short film, The Pitch, which he wrote and directed, starring David Schwimmer, Ernie Hudson and Jonathan Silverman. The film went on to air on Showtime.
Following this, Ellin was accepted as a Director into the American Film Institute's prestigious Conservatory program, which he attended from 1991-1992. Ellin next wrote and directed another comedy short, The Waiter, starring David Schwimmer, Jon Cryer, Paul Gleeson, Laraine Newman and Allen Garfield. In 1996, Artisan distributed Ellin's low-budget independent film, Phat Beach, which starred Jermaine Hopkins, Brian Hooks and Coolio, among others. Ellin's follow- up film, Kissing a Fool, once again starred David Schwimmer, along with Bonnie Hunt, and a cast of up-and coming stars including Mili Avital, Jason Lee and newcomer Judy Greer. Universal bought and distributed the film in 1998.
While continuing to write and develop feature film and television projects, Ellin joined forces with Mark Wahlberg and Steve Levinson to create Entourage, which is loosely based upon their shared Hollywood experiences. Entourage was a critical and audience hit. Additionally, the series has been nominated for numerous awards including Golden Globe nominations for Best Television Series, WGA Awards; Emmy Awards, SAG Awards, PGA Awards and DGA Awards.
Although Entourage has wrapped, Ellin is continuing to work with HBO on multiple new shows.
Related Speakers View all
---
Debi Scholar

Trusted Advisor and Superior Solutions for the Trave...

Ally Musika

Writer and Executive Producer of HBO's "Entourage"

Rob Weiss

Film Producer, Screenwriter and Director; Co-Writer ...

Kevin Murphy

author of Surviving Cancer - after surviving cancer

Mark Wahlberg

Actor, Producer & Philanthropist

Billy Bob Thornton

Actor, Screenwriter; Known for "Armageddon"

Emmanuelle Chriqui

Actress Known for "Entourage;" Social Advocate for C...

Perrey Reeves

Actress; Best Known for HBO's "Entourage" and the Fi...

Jeremy Piven

Emmy Award-Winning Actor & Film Producer; Best Known...

Rex Lee

Korean-American actor best known for his role on HBO...

Adrian Grenier

Actor Known for HBO's "Entourage"; Environmental Act...

Jerry Ferrara

Italian-American Actor; Best Known for his Role as T...

Kevin Dillon

Golden Globe and Emmy-nominated American Actor; Pla...

Rhys Coiro

Rhys Coiro (born March 12, 1979) is a television and...

Bob Chapman

CEO of Barry-Wehmiller & Bestselling Author of "Ever...

Rob Paulson

American Actor; Known for voice of Teenage Mutant Ni...

David Skok

General Partner at Matrix Partners

Jeff Boss

Former Navy SEAL and Author of "Navigating Chaos"

Brad Stapleton

Visiting Research Fellow at Cato Institute

Nicholas Quinn Rosenkranz

Senior Fellow in Constitutional Studies at Cato Inst...
More like Doug