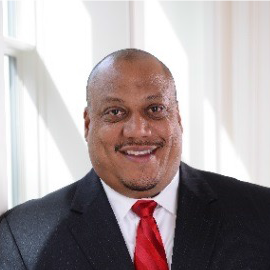 Doug Luffborough
Heart Inspired Speaker, Education Consultant & Author of "Watch Me Rise"
Doug Luffborough is an over-comer! Raised by his mother, a housekeeper, Doug grew up in an impoverished environment. As the oldest son in a single parent family, he was thrown into the role of father figure to his three younger siblings while lacking a strong male role model for himself. Doug's greatest ambition was to become the first member in his family to attend college – a dream challenged when his family became homeless during his senior year in high school. Despite homelessness and discouragement from his guidance counselor to attend college, Doug continued to work hard and was eventually accepted into Northeastern University in Boston, Massachusetts to pursue a Business and Human Resources Management degree.
Five years later he was chosen as the Student Commencement Speaker for his class and preceded then President of the United States, Bill Clinton. President Clinton was so impressed with Doug's tenacity and drive that he invited him and his mother to the White House.
After working with a national community service organization, Doug went back to school to receive his master's degree from the Harvard Graduate School of Education with a concentration in Administration, Planning, and Social Policy. After Harvard he was chosen to receive a Fellowship degree from the prestigious Center for Social Innovations at the Stanford University Graduate School of Business, Executive Program for Non-Profit Leaders. Currently, Doug is getting his PhD at the University of San Diego School of Leadership Studies with a concentration in Nonprofit Management and Leadership Consulting.
Doug has spent over 20 years working with organizations as a leadership consultant, social entrepreneur, and advocate for social change. Extremely devoted to youth development and family empowerment, he has created and directed social service programs throughout the United States and Asia.
Doug was recently recognized as a recipient of the esteemed San Diego Channel 10 Leadership Award as a caring resident "who goes above and beyond to make San Diego a better place to live by improving the quality of life for those who need it most."
His core values and belief in faith, discipline, action, and hard work led to special appearances at the Fleet Center (formerly the Boston Garden), the White House, the John F. Kennedy Library and Museum, and the Crystal Cathedral's "Hour of Power" television broadcast. Doug's life is a tale of inspiration and hope for the American dream which has impacted hundreds of institutions and thousands of young people across the world.
Videos
---
Related Speakers View all
---
Dr. Charlie Miller

Security Researcher; Principal Autonomous Vehicle Se...

Malcolm London

Young Poet, Educator & Activist; Known for his TED T...

Donalyn Miller

Educator & Author of "The Book Whisperer" and "Readi...

Keith L Brown

Known as "Mr. I'm Possible;" Social Impact Hero, Ins...

Phyllis Fagell

Author of "Middle School Matters" & School Counselor

Ai Addyson-Zhang

Disruptive Education & Marketing Expert; Founder, Cl...

Dr. Adolph Brown

Educator, Businessman & Author

Chitra Aiyar

Executive Director, Sadie Nash Leadership Project

Williams Martinez

Disability Advocate, Creator of "Signing the Song"

Jessica Ochoa Hendrix

Education Activist & Entrepreneur

Ann Batenburg

Education Consultant at Mindset Works & Clinical Ass...

LeAnn Nickelsen

Founder & CEO of Maximize Learning

Katherine McKnight

Author & Nation's Leading Voice on Adolescent Literacy

Jennifer Abrams

International Communications Consultant

Robyn Jackson

Host of the School Leadership Reimagined Podcast & F...

Kim Geddie

Leading Educational Consultant, Author & Classroom T...

Sydney Jensen

Educator, 2019 Nebraska Teacher of the Year & Menta...

Donyall D. Dickey

Founder and Chief Academic Officer of Educational Ep...

Maha Bali

Associate Professor of Practice, Center for Learning...

Mike Sullivan

Award-Winning Singer-Songwriter, Author & Motivatio...
More like Doug