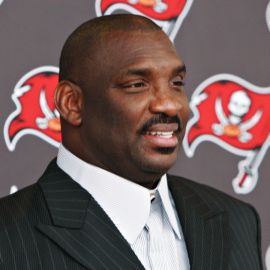 Doug Williams
First African American Quarterback to Ever Play in a Superbowl; Former Head Coach of the Grambling State Tigers
Douglas Lee Williams (born August 9, 1955 in Zachary, Louisiana) is best known for his MVP performance in Super Bowl XXII against the Denver Broncos. He is the first African American quarterback to win the Super Bowl (Russell Wilson being the other with the Seattle Seahawks in 2014).
Williams was drafted in the first round (17th overall) of the 1978 NFL Draft, chosen by the Tampa Bay Buccaneers out of Grambling State University. He led the Bucs to three playoff appearances and one NFC title game from 1979 to 1982. His 31-34-1 regular season record, and 1-3 playoff record made him the best quarterback in Buc history. The Bucs, who had never been to the playoffs before Williams arrived, had gone to the playoffs three times in four years and played in the 1979 NFC Championship Game. Williams improved his completion percentage each year with the Bucs, but was regarded as the heart and soul of the team, and the driving force behind the winning.
Williams signed with one of the USFL's expansion teams, the Oklahoma Outlaws. He would lead his team in passing completing 261 out of 528 passes for 3,084 yards and threw 15 touchdowns, yet he also threw 21 interceptions, ending up with a passer rating of 60.5, during his team's dismal 6-12 season. In 1985, when his team moved to Arizona and fused with the Arizona Wranglers to become the Arizona Outlaws, Williams showed some improvement, completing 271 out of 509 passes for 3,673 yards with 21 touchdowns and 17 interceptions, ending up with a 76.4 passer rating. However, his Outlaws' just missed the playoffs with an 8-10 record.
After the USFL shut down in 1986, Williams returned to the NFL, joining the Washington Redskins at the behest of Redskins coach Joe Gibbs, who had been the offensive coordinator at Tampa Bay when Williams was there.
Initially Williams served as the backup for starting quarterback Jay Schroeder, but after Schroeder became injured, Williams stepped in and led the Redskins to an opening-day victory against the Philadelphia Eagles. It would be one of three times in 1987 that Williams subbed for Schroeder and led the team to victory (the other two were 11/15 vs. Detroit and 12/26 at Minnesota). Williams only started two games, 9/20 at Atlanta and 11/23 vs. the Rams. While both starts were losses, at the end of the season, when the Redskins had qualified for the playoffs, Williams, with his 94.0 passer rating, was chosen as the starter. He led the team to Super Bowl XXII in which they routed the Denver Broncos, becoming the first black quarterback to play in a Super Bowl, and as of Super Bowl XLIII, the only black quarterback to win one.
Facing legendary Denver Broncos quarterback John Elway, Williams engineered a 42-10 rout, in which the Redskins set an NFL record by scoring five touchdowns in the second quarter. Williams completed 18 of 29 passes for 340 yards, with four touchdown passes, and was named Super Bowl MVP.
Williams retired with a 5-9 record as Redskins starter (8-9, counting playoffs) and a 38-42-1 record as a regular season starter (42-45-1, including 7 playoff starts). He had 100 passing touchdowns, and 15 rushing touchdowns, in 88 NFL games.
Williams started off his college head coaching career at Morehouse College in 1997. He also has previous NFL experience as a scout for the Jacksonville Jaguars in 1995 and as offensive coordinator for the Scottish Claymores of the World League of American Football in 1995, and tutored running backs for Navy in 1994. Williams also excelled on the high school level as head coach and athletic director at Point Coupee High School in New Roads, Louisiana in 1991, and in 1993, he was head coach at Northeast High School in his hometown of Zachary, Louisiana, where he guided the team to a 13-1 record and the state semifinals.
Williams became the head football coach at Grambling State University in 1998, succeeding the legendary Eddie Robinson. He led the Tigers to three consecutive Southwestern Athletic Conference titles from 2000-2002, before leaving to rejoin the Tampa Bay Buccaneers as a personnel executive. Williams was promoted to the position of director of professional scouting in February 2009 for the Tampa Bay Buccaneers.
On May 11, 2010, it was announced that Williams would no longer be the director professional scouting for the Tampa Bay Buccaneers. He was subsequently hired as the general manager of the Norfolk expansion franchise in the United Football League, now known as the Virginia Destroyers.
On February 21, 2011, Williams resigned from the Destroyers to begin his second stint as the head football coach at Grambling State University. On February 10, 2014 Williams accepted a position in the front office with the Washington Redskins.
Videos
---
Related Speakers View all
---
Dominique Dawes

Olympic Gold Medal-Winning Gymnast, Former Co-Chair ...

Magic Johnson

Basketball Hall of Famer, Entrepreneur, Philanthropi...

Dr. Marc Lamont Hill

Temple University Professor, BET News Correspondent,...

Stephen A. Smith

Sports Journalist, Analyst and Talk Show Host Known ...

Lamman Rucker

Actor, Education Activist, Green Living Advocate & E...

Keke Palmer

Actress & Youngest Talk Show Host in TV History

Clayborne Carson

Scholar, Author, Professor, Civil Rights Historian &...

Bobby Seale

Political Activist & Co-Founder of the Black Panther...

Charles Mann

Three-Time Superbowl Champion and Successful Busines...

Van Jones

CEO of REFORM Alliance, CNN host, Emmy Award-winning...

Tommie Smith

World Record Breaking Gold Medal Olympian & Civil Ri...

Leland Melvin

Engineer, Former NASA Astronaut & Former NFL Wide Re...

Laz Alonso

Actor & Producer

Mike Singletary

Head Coach for the Memphis Express; Former Professio...

Bakari Sellers

Author, Attorney, Political Commentator & Youngest A...

Coach Ken Carter

Coach, Author, Educator & Inspiration for the Film "...

Danny Glover

Acclaimed Actor, Producer & Leading Social Activist;...

Common

Award-Winning Artist, Actor, Producer, Musician & Wr...

Lisa Leslie

WNBA Champion, Olympic Gold Medalist & Author of "Do...

Jackie Joyner-Kersee

Olympic Legend, Philanthropist, American Record-Hold...
More like Doug