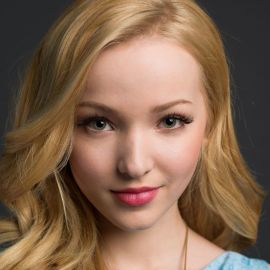 Actress/singer Dove Cameron is an upbeat performer best known for her dual role playing identical twins on the Disney Channel sitcom Liv and Maddie.
Born in Seattle, Washington in 1996, Cameron grew up on nearby Bainbridge Island, where she first began acting in community theater at Bainbridge Performing Arts. As a teenager, she moved with her family to Los Angeles, California, where she attended Burbank High School. During this period, she sang in the choir and began pursuing an acting career.
In 2012, with a handful of television credits under her belt, Cameron won the lead in the Disney Channel production Bits and Pieces as the character Alanna. However, by 2013, the show had been reworked into the sitcom Liv and Maddie with Cameron playing the titular identical twin sisters Liv and Maddie Rooney. Cameron sings on the show, and several of the tracks -- including her cover of Imagine Dragons' "On Top of the World" and the show's theme, "Better in Stereo" -- were released digitally, with the latter eventually hitting the number one spot on Billboard's Kid Digital Songs chart. In 2015, Cameron's vocals were fully showcased with the release of the show's soundtrack compilation Liv and Maddie: Music from the TV Series. Also in 2015, Cameron starred in the Disney film Descendants, and appeared on the film's soundtrack.
Cameron teamed up with fellow Liv and Maddie cast member Ryan McCartan to form a pop group called the Girl and the Dreamcatcher. The Girl and the Dreamcatcher released their debut digital single, "Written in the Stars," in 2015, with an EP, Negatives, arriving in July 2016. In December 2016, Cameron appeared in the NBC television presentation Hairspray Live!, a TV adaptation of the award-winning musical based on John Waters' cult favorite movie. In Hairspray Live!, Cameron played Amber Von Tussle, the spoiled and mean-spirited nemesis to teen heroine Tracy Turnblad (played by Maddie Baillio). Cameron sang three songs in the production, "Mama, I'm a Big Girl Now," "Cooties," and "You Can't Stop the Beat," which were featured on the Hairspray Live! cast album that was released several days after the initial broadcast.