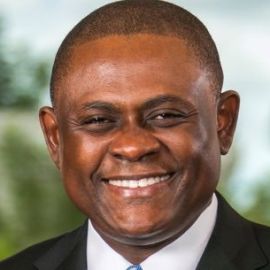 Dr. Bennet Omalu
First to Discover & Diagnose Chronic Brain Damage in NFL Athletes; Subject of 2015 Film "Concussion"
Dr. Bennet Omalu's story is one of great triumph in the face of seemingly insurmountable odds. Born in 1968 in Eastern Nigeria during the civil war, his family lived as refugees, his town under constant fire by the Nigerian Air Force. Despite suffering war-related under-nutrition in the first two years of his life, Omalu would go on to attend medical school at age 15 and become a physician by age 21.
In 2002, Dr. Omalu made a career breakthrough when he became the first doctor to discover and identify chronic brain damage as a major factor in the deaths of some professional athletes. He called the disease Chronic Traumatic Encephalopathy (CTE), which he first discovered as the result of an autopsy he performed on Mike Webster—one of the best Centers in NFL history. "Iron Mike", the legendary Pittsburgh Steeler and Hall of Famer, died at age 50, his brain revealing something doctors had never seen before. Within five years of reporting on Webster's case, Dr. Omalu went on to identify CTE in eight more deceased NFL players. He was also the first to discover CTE in military veterans diagnosed with PTSD, as well as professional wrestlers. But his findings were summarily dismissed—and even ridiculed—by his professional peers, the NFL, and the sports industry. The NFL even made a concerted effort to retract Dr. Omalu's published papers. But he stood his ground in search of the truth.
Today, CTE has become generally accepted and Dr. Omalu's findings have revolutionized neuroscience, sports medicine and safety, the study of all types of brain trauma, and the entire sports industry. In 2015, Omalu's life and work will be chronicled in a book and film, both titled Concussion. The book was released in November 2015 and Will Smith will portray Dr. Bennet Omalu in the film, which hits theaters Christmas Day, 2015.
Dr. Omalu was awarded a WebMD Health Heroes 2015 award for his discovery of CTE and raising awareness to the disease. Health Heroes awards are given to those who do great things to help others live healthier, better lives.
Speech Topics
---
Dr. Bennet Omalu brings to the stage a rare combination of humility and fervor, as he shares his story of going from humble beginnings in war-torn Nigeria to becoming one of the biggest disrupters in the history of sports and medicine. He details the challenges he faced taking on the NFL and other top US franchises to ensure that the truth—and risk—of chronic brain damage was known, understood, accepted, and at all costs, prevented. He also discusses the biases and obstacles he overcame as an African immigrant staunchly committed to studying medicine in the U.S. and rising to the top of his field, despite all odds.
Don't Break the Rules, Change the Game: How Bennet Omalu single-handedly changed American football, Professional sports, and how the world perceives traumatic brain injuries
Dream the Dream Bigger: How to conquer personal weaknesses by never losing sight of your goals and true potential
Overcoming Biases in Every Endeavor
The Mustard Seed Effect: How small steps can spark major change
Related Speakers View all
---
Dr. Jennifer Ashton

Leading Women's Health Expert & Chief Medical Corres...

Toby Cosgrove

Former CEO & President at Cleveland Clinic

Montel Williams

Emmy Award-Winning Talk Show Host Best Known For "Th...

Patrick Kennedy

Former Congressman (D-RI), Founder of The Kennedy Fo...

Ginger Zee

Chief Meteorologist for ABC News, Author & Mental He...

Dr. Joel Selanikio

Award-Winning Physician, Health & Technology Activis...

Danny Trejo

Actor, Activist & Restaurateur

Karen DeSalvo

Chief Health Officer, Google; Former Assistant Secre...

Deepak Chopra

Co-Founder of The Chopra Center for Wellbeing

Amy Purdy

Former "Dancing with the Stars" Contestant & Paralym...

Ray Kurzweil

Chairman of Kurzweil Technologies; Inventor; Futurist

Tom Voss

U.S. Army Combat Veteran, Mental Health & Holistic H...

Taya Kyle

Advocate for Military Veterans and Families; Widow o...

Lisa Oz

Best-Selling Author, Producer, Host & Entrepreneur

J.R. Martinez

Actor, Best-Selling Author, Motivational Speaker, Ad...

Dr. Drew Pinsky

Trusted Health & Wellness Advocate, Television & Rad...

Marie Osmond

Singer, Host, TV Personality & Author of "Behind The...

Maureen McCormick

Actress Known for "The Brady Bunch" and Season 23 of...

Rachel Hollis

#1 New York Times Best-Selling Author of "Girl, Wash...

Dixon Chibanda

Psychiatrist and Director of the African Mental Heal...
More like Dr.