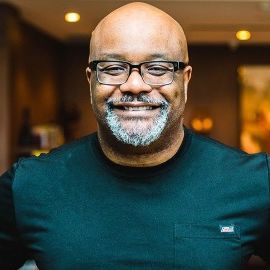 Dr. Boyce Watkins
Financial Expert & Social Activist
Boyce D. Watkins, "The People's Scholar," is one of the leading social commentators, black speakers, and freedom fighters in America. As an advocate for education, economic empowerment, and social justice, he has changed the definition of what it means to be a black scholar and leader in America. "We don't need more PhD's in the black community; we need more Ph.Dos."
In addition to publishing many scholarly articles on finance and investing, Watkins shares his message with others, appearing in national media outlets, including CNN, Good Morning America, MSNBC, FOX News, BET, NPR, Essence, USA Today, The Today Show, ESPN, The Tom Joyner Morning Show and CBS Sports. Watkins appears in a weekly segment on Keeping it Real with Al Sharpton as a political expert. He is also the favored financial expert and social commentator for "The Wendy Williams Experience" with 11 million listeners nationwide.
Watkins has spoken to over 50,000 black youth about the benefits of obtaining a college education as part of his "Step Up and Go to College Tour." In response to an announcement by President Obama, Watkins, along with Al Sharpton, Marc Lamont Hill, Jesse Jackson and other prominent black keynote speakers, are actively engaging in initiatives to combat the astronomical dropout rates for African American students.
As a financial speaker, he has advised black Americans through his series "Get your Paper Straight" and "Black Love, Black Money, Black Relationships" and through 150 national television, radio and print interviews in the last two years alone.
A faculty affiliate with the College Sports Research Institute at The University of North Carolina, Chapel Hill, Watkins has endured firestorms of controversy for his willingness to honestly and intelligently address racial inequality in university hiring/tenure practices, NCAA athletics, the prison system, "mainstream media," and the educational system. Featured on CNN, CBS, ESPN, and in The Washington Post and The Los Angeles Times, he has led the movement to properly compensate college athletes, many of whom live in poverty while their coaches make millions. He argues that the tax exempt status of the NCAA should be challenged, and they should no longer have an anti-trust exemption.
Watkins earned BA and BS degrees with a triple major in finance, economics and business management. In college, he was selected by The Wall Street Journal as the "Outstanding Graduating Senior in Finance." He then earned a MA in mathematical statistics from The University of Kentucky and a PhD in finance from Ohio State University where he was the only black American in the world to earn a PhD in finance during 2002. He currently serves as a finance professor at Syracuse University.
Videos
---
Speech Topics
---
Trayvon Martin & Jordan Davis: Young, Black & Misunderstood
The shooting deaths of two unarmed African-American teen males sparked a national conversation about racism, hip-hop culture and gun violence. Having once been revered as a troubled teen in his youth, Dr. Boyce Watkins shares the communication breakdown between Black boys and America. In a push to repair the communication gap, Dr. Watkins provides three things that America should know about Black boys and three things that Black boys should know about America.
From Parole Board to School Board: Reshaping Education for Urban Youth
The day-to-day challenges urban youth face oftentimes force them to succumb to criminal activities as opposed to acquiring an education. In this keynote, Dr. Boyce Watkins equips educators and administrators with the necessary skills to communicate, inspire and retain inner-city youth in an educational environment.
Liquid Money: Spending Habits that Cause Cash to Seep Through Your Fingers Like Water
Your spending habits control your ability to establish and maintain personal and professional relationships, including your ability to purchase things of appreciative value and your ability to live a long, healthy life. If you're not aware of your spending habits, you'll find your money seeping through your fingers like water in a balled fist.
Time is Money, Literally: Managing Your Time Like Your Wallet Depends On It
Building the Dream of Inclusion: Five Things Dr. Martin Luther King, Jr. Would Want Every American to Know
Related Speakers View all
---
Majora Carter

Real Estate Developer, Peabody Award-Winning Broadca...

Dr. Marc Lamont Hill

Temple University Professor, BET News Correspondent,...

Julianne Malveaux

Author, Economist, Founder & Thought Leader Economic...

Earl G. Graves, Jr.

President & CEO at Black Enterprise

Tavis Smiley

Broadcaster, Author, Publisher, Advocate, and Philan...

Farrah Gray

Celebrity Entrepreneur & Bestselling Author of "Real...

Juan Williams

New York Times Best-Selling Author, Fox News Politic...

Montel Williams

Emmy Award-Winning Talk Show Host Best Known For "Th...

Clarence B. Jones

Former Adviser and Speechwriter for Martin Luther Ki...

John Zogby

Trendspotter & Leading Pollster

Justice Alan Page

Retired Minnesota Supreme Court Justice & Former Pro...

Reverend Al Sharpton

African-American Preacher & Activist; Foremost Civil...

Xavier Sala-i-Martin

Chief Economic Advisor to the World Economic Forum

George P. Bush

Politician & Land Commissioner of Texas

Carmen Wong Ulrich

Personal Finance Expert

Mahathir Bin Mohamad

Former Malaysia Prime Minister

Sheryl WuDunn

Pulitzer Prize-Winning Journalist; Co-author of Half...

Jalen Rose

ESPN Analyst & Former NBA Player

Raj Patel

Award-Winning Writer, Activist & Academic

Arun Shourie

India's Leading Journalist
More like Dr.