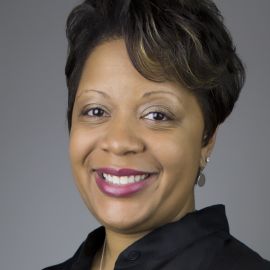 Dr. C. Nicole Swiner
Family Physician, Author, Focused on Minority and Women's Health
Nicole Swiner, MD, is a family physician, wife and mother of 2 in North Carolina. She loves taking care of the family. Her interests include Minority Health, Women's Health, and Pediatrics. For her undergraduate education, she attended Duke University and went to medical school at the Medical University of South Carolina, in Charleston, SC. She's lived in the Triangle since finishing residency at the University of North Carolina in Chapel Hill and continues teaching medical students and residents as an Adjunct Associate Professor with the university's Family Medicine department. When she's not treating patients at Durham Family Medicine, she's speaking in the community, writing, or spending time with her family. Her passion is making medicine "plain" to her patients, so that all people, from all walks of life, can understand how to take better care of themselves and their families.
Dr. Swiner's book, How to Avoid the Superwoman Complex is both a labor of necessity and of love for her, as she started writing shortly after residency and starting her practice as a family doctor. The articles were born out of a desire to help her community and were featured in a local newspaper. The writings soon developed common themes, such as the importance of preventive health and of self-awareness as a way to prevent illness. After 7 years, she dreamed of putting all of her common sense medical advice into book form. And thus, How to Avoid the Superwoman Complex was born. The superwoman (or superman) complex is the false belief that one person can be all things to all people, perfectly. It can have devastating effects—emotionally, mentally and physically. She hopes this book will serve as a guide for recovering superwomen (and supermen) everywhere to avoid said negative effects and to make it a little easier and less stressful to take care of one's self and family.
Videos
---
Speech Topics
---
How to Avoid The Superwoman Complex
Depression and Anxiety – Beyond the Blues
Sexually Transmitted Diseases
Beating Chronic Illnesses…For Good
From "Try It" to Toxic – Addiction – How To Attack It
The Big "C" – Life After Diagnosis
Related Speakers View all
---
Gabrielle Glaser

Author, Award-winning Journalist

Kristie Kennedy

Women's Worth & Wellness Expert, TEDx Audacious Lead...

Suzanne Somers

Celebrity Alternative Medicine Advocate, Author & Br...

Sindi Somers

Animal Advocate, Writer, Animal Communicator, Medita...

Naomi Judd

Grammy Winning Singer-Songwriter, New​ ​York​ ​Times...

Shawn Johnson East

Olympic Gold Medalist in Gymnastics, "Dancing with t...

Amanda Beard

Olympic Gold Medalist, Co-Founder of Beard Swim Co. ...

Deborah Norville

Two-Time Emmy Award-Winning Journalist; Anchor of "I...

Marti MacGibbon

Humorous Inspirational Speaker, Certified Mental Hea...

Christiane Northrup

Authority on Women's Health, Bestselling Author of "...

Shannon Fox

Shannon Fox is a successful licensed psychotherapist...

Joan Borysenko, Ph.D.

Behavioral Scientist & Best-Selling Author

Therese J. Borchard

Best-Selling Author & Blogger; Author of the hit da...

Sierra Bender

Empowerment Coach and Visionary Healer for the Mind,...

Laura Baugh

Former Professional Golfer, Substance Abuse Speaker

Lucinda Bassett

International Best-Selling Author of "From Panic to ...

Dr. Molly Barrow

Well-Known Relationship Expert and Author; Licensed ...

Lindsey Boggs

Mental Health & Suicide Prevention Advocate

Jacqueline Hayes

Motivational Author, Speaker, Coach and Consultant

Chiara de Blasio

First Daughter of New York City, Social Justice Advo...
More like Dr.