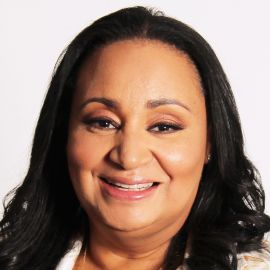 Dr. Carmen M. Castro, D.B.A.
Senior Business Executive and World Renowned Public Motivational Speaker
Aurora International Executive Solutions Hong Kong, LTD, and Aurora International Executive Solutions, LLC was founded in 2006 by Dr. Carmen M. Castro, who is an International Senior Business Executive and World Renowned Public Motivational Speaker, International Economist, and International Published Author of International Business Research Journals and academic textbooks on the subject matter of Women in International Business Consulting and International Economic Development. Dr. Castro is also an International Distinguished Academician who teaches at various universities around the world teaching only MBA and Doctoral students who are seeking academic degrees in International Business, International Economics and International Finance. Dr. Castro's niche markets are the Middle East, Africa, Asia, Russia, Europe and the Americas when it comes to her International Business Consulting Expertise under her corporate name brand of Aurora International. Then in 2012, a new division was born under the name Aurora International Executive Headhunter Recruiting Firm, LLC which mission is to provide International Executive Recruiting Placement Services for Multinational corporations seeking expansion into the Middle East GCCs regions. The main mission of Aurora International is the Empowerment of World Leaders and the Empowerment of Women CEOs around the world.
Dr. Castro has also been a Guest Speaker at the 12th, WOIBEX at the Burj Al Arab Hotel in Dubai on March 8th, 2010 and this event was organized by Mr. Ali Al Kamali who is the Managing Director of Datamatix. Dr. Castro spoke on the topic of International Business Opportunities in the Middle East and the Empowerment of African Women Business-owners in the field of International Business and International Economic Development. Dr. Castro was asked for the second time to once again; become a Guest Speaker and Panelist at the 7th Leading CEO Summit and the 7th Middle East CEO Awards at The Burj Al Arab Hotel in Dubai on April 21st, 2010 by Mr. Ali Al Kamali. The Summit witnessed the presence of H.H. Sheikh Khaild Bin Zayed Sagar Al Nahyan, Chairman of the Bin Zayed Group UAE. The panel discussion was on Middle East CEO's and the Challenges facing them when it comes to Business Opportunities for the GCCs region.
On 6th, November of 2014, Dr. Castro was be awarded "The 2014 Ana G. Méndez Excellence in International Business and Entrepreneurial Education Award in San Juan, Puerto Rico given by the Ana E. Méndez University System in Puerto Rico. Dr. Castro was also named one of "Top 5 Most Influential and Successful Female CEOs and Entrepreneurs," in the following three regions, Asia, Africa and the Middle East at the Africa – Middle East – Asia Women Summit (AMEAWS) held on November 20th – 21st, 2014 at The Hilton Dubai Jumeirah Resort, Dubai UAE. Also in 2013, Dr. Castro was awarded, "The Global Female Economic Champion Award of 2013," by The Management of the Centre for Economic and Leadership Development, an NGO in special consultative status with the United Nations Economic and Social Council (UN ECOSOC) in addition, the CEO Clubs Networks Worldwide in Dubai. Finally, in January 11th of 2015 Dr. Castro received the honor of being among Houston Woman Magazine "Houston´s 50 Most Influential Women of 2014." This event was held at the St. Regis Hotel in Houston Texas by the Founder and CEO of Houston Magazine Ms. Beverly Denver.
Videos
---
Speech Topics
---
International Entrepreneurship
This speaker presentation gives you the best business solutions and strategies to take your domestic business and corporate name brand internationally. Learn how to expand your business to Dubai without needing a sponsor from the UAE as your business partner. Learn how to expand your business into unsaturated markets globally and learn how to develop a niche within niche when it comes to overall international business development.
Hispanic Women In International Business and Senior Management: Why So Few?
This speaker presentation addresses some of the social, economic, and business barriers being faced by Hispanic Women Business Owners in the field of International Business Management Consulting for Multinational Corporations. This presentation highlights the struggles of Hispanic Women when it comes to social recognition, political recognition, economic independence, cultural identity, traditional cultural and family values, educational advancement, and entrepreneurial business advancement. The final goal of this speaker presentation is to show Hispanic Women how to overcome all of these barriers and for them to achieve international business success while still having their family values side by side with their international business goals.
Believe in Yourself: For Others to Believe in You
This speaker presentation deals with some of the barriers men/women find themselves in while trying to achieve business and personal success. This presentation teaches them how to overcome their fears and for them to find their confidence again to achieve business and personal success 365 days a year. This helps them by becoming great leaders within the business communities and within the family relationship dynamics.
Reverse Innovation and Business Opportunities in Global Business
This speaker presentation addresses the new global trends in business opportunities through "reverse innovation." What is Reverse Innovation? Well, Reverse Innovation is "the developing of new business ideas in an emerging market that poses immense challenges to Western business markets because of the effects of globalization." The final goal of this presentation to help Western Corporations overcome their institutionalized ways of thinking when it comes to the new corporate development projects of new global ideas coming from third world countries that are producing billions of dollars of profit in the process. How to think more globally and start to think outside of the box when it comes to the way Western Corporations view business opportunities inside emerging economics.
The Impact of New Business Development Opportunities in Cuba: Who Should Invest in Cuba?
This speaker presentation addresses the new business development opportunities that are being presented in Cuba with these changes of US Foreign Relationship between Cuba and the United States of America. Cuba has been an unsaturated market for the past 54 years and Cuba will become the next economic powerhouse in the Caribbean attracting Foreign Direct Investments from different parts of the global market. The goal of this presentation is to address all of the investments opportunities that will be created in Cuba and the negative impact this Foreign Direct Investment will have on the rest of the economic region of the Caribbean, which includes Puerto Rico and the Dominican Republic.