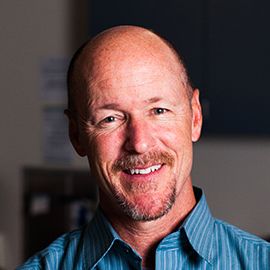 Dr. Chris Lowe, the SHARKPRO, has dedicated his life's work to countering the hype, fear-mongering, and misinformation about the incredible animals we know as Selachimorpha, or SHARKS. He has done this by developing real, grounded information for the public and the scientific community over the course of more than two decades.
One of the foremost experts on sharks in the world, Dr. Chris Lowe is a professor in marine biology and Head of SharkLab at California State University, Long Beach (CSULB), where he and his students study the movement, behavior and physiology of sharks, rays and gamefishes. A frequent guest during Discovery's SHARKWEEK, he has appeared in many articles and on TV and radio broadcasts, including the PBS/BBC special Big Blue Live, on Sharks in the City: Los Angeles, the TODAY show, in his own TED Talk, on CBC News, and in Newsweek and the Los Angeles Times.
Dr. Lowe earned his Bachelor of Arts in marine biology at Barrington College in Rhode Island and a Master of Science degree in biology at CSULB. In 1998, he achieved a doctorate in zoology, studying bioenergetics of juvenile hammerhead sharks, at the University of Hawaii, and returned to CSULB to teach marine biology and oversee the SharkLab.
Videos
---
Speech Topics
---
Shark research, Shark population growth, Conservancy, Climate Change and Marine Life, White Shark Nurseries, Human/Shark Interactions, Bringing sharks back from the brink