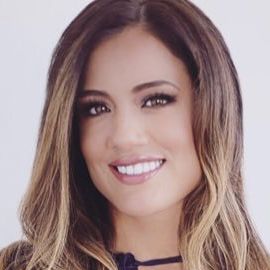 Dr. Claudia Aguirre is a neuroscientist and skin expert, specializing in the connection between the mind and the body. She received her Bachelor of Science degree from UCLA and earned her Doctorate degree from the University of Southern California, where she investigated hormonal interactions in the aging brain. In between her studies, she researched molecular mechanisms of schizophrenia at the National Institute of Mental Health (NIMH). She has also completed a certificate course on Yoga, Mindfulness and Social Change at Loyola Marymount University.
Dr. Aguirre has presented on the brain-skin connection at TEDxUCLA and has also created several TED Eductayion lessons, which have reached an audience of millions worldwide.
Dr. Aguirre consults internationally as a professional speaker, writer and spokesperson in the health and wellness industries. Her work has been recently feautured in Vogue, The Atlantic, The Guardian, YouBeauty, Refinery29, Open Culture, and Netflix.
Related Speakers View all
---
Cortland Dahl

Chief Contemplative Officer, Healthy Minds Innovatio...

Richie Crowley

Wellness Activist, Mental Health Advocate, Entrepren...

Dr. Kristen Lee

Award-Winning Behavioral Science Expert & Clinician

Graham Betchart

Reknowned Mental Skills Coach

Anne Ornish

Vice President of the Preventive Medicine Research I...

Libby Rapin

Mindfulness & Meditation Coach, World Explorer

Dr. Christian Conte

Nationally Acclaimed Mental Health Specialist

Tara Brach

Author & Mindfulness Teacher

Pandit Dasa

Mindful Leadership Expert, Motivational Speaker & Au...

Jeffrey M. Schwartz, M.D.

Research Psychiatrist at UCLA School of Medicine

Steven Mazie

Associate Professor of Political Studies, Bard High ...

Seane Corn

International Yoga Teacher & Activist

Michael Gazzaniga

President of the Cognitive Neuroscientist Institute

Ricky Mendez

Motivational Speaker, Consultant & Coach

Stephanie Wagner

Holistic Health and Well-being Coach, Healthy Minds ...

Joia Mukherjee

Chief Medical Officer, Partners in Health

Chris Schembra

USA Today's "Gratitude Guru", Best-Selling Author of...

Aycee Brown

Psychic, Spiritual Guide, Founder of Goodnight Darli...

Gina Merchant

Behavioral Scientist

Aline Holzwarth

Head of Behavioral Science at Pattern Health
More like Dr.