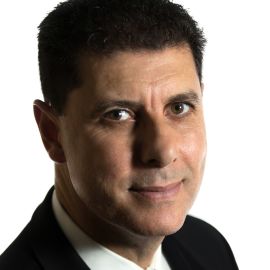 Dr. David Oualaalou
Global-Affairs Analyst, Professor of International Security & Author of "Volatile State: Iran in the Nuclear Age"
Dr. David Oualaalou is an international geopolitical consultant, global speaker, award winning educator, author, educator, and former international security analyst in Washington, DC. He is the founder of Global Perspective Consulting headquartered in Dallas, TX.
His company provides advice and analytical services for government, defense, energy and security industries. He consults with national and globalized business enterprises on strategic, political, financial and economic opportunities.
Dr. Oualaalou's unique background allows him to provide current and relevant insight on our world's greatest challenges and issues within critical economic and security areas. His theoretic and practical "real-world" knowledge of how geopolitics, global security, energy issues, domestic and international business intersect is founded on his experience as a former international security analyst in Washington, D.C., his doctoral studies, and as a military veteran who worked in the field with elite military forces carrying out operations at the behest of U.S. policymakers.
Dr. Oualaalou is author of the newly released book, Beneath the Veil: Fall of the House of Saud (2018); Volatile State: Iran in the Nuclear Age (2018), and the Ambiguous Foreign Policy of The United States toward the Muslim World (2016), among others.
His editorials have appeared in newspapers and online journals, including The Huffington Post, Al Jazeera, the European Atlantic Council, Middle East & North Africa Forum, and the South China Morning Post in Hong Kong. Some of his articles have been translated into more than ten languages.
Dr. Oualaalou's academic, linguistic, and cultural background, coupled with his substantial experience, has proved vital to understanding the geopolitical trends and the political, economic, and security risks organizations face when operating overseas. His insights are critical to an organization's long-term strategic planning for the new global market with a focus on the Middle East, China, and Russia.
Videos
---
Related Speakers View all
---
Ian Bremmer

Political Scientist, Author, Entrepreneur & Lecturer

Jeremy Rifkin

Leading Global Technologist, Futurist, Authority on ...

Anil Gupta

Leading Expert on Strategy, Globalization and Emergi...

Muhammad Yunus

Nobel Peace Prize Laureate & Founder of Grameen Bank...

Martha Raddatz

ABC News Chief Global Affairs Correspondent and co-a...

Shirin Ebadi

Nobel Peace Prize-Winning Iranian Activist & Lawyer

Nicholas Burns

Professor of the Practice of Diplomacy & Internation...

Richard Wolffe

Digital Executive, Best-Selling Author & Columnist a...

Aaron David Miller

Former Advisor on the Middle East & Author

Robert D. Kaplan

Best-Selling Author & Atlantic Monthly Correspondent

Todd Buchholz

Former White House Director of Economic Policy & CNB...

Bernard Baumohl

Chief Global Economist of The Economic Outlook Group...

Sarah O. Ladislaw

Co-Director and Senior Fellow, Energy and National S...

Susan Rice

Director of the White House Domestic Policy Council ...

Vikram Mansharamani

Academic Author, Advisor, Global Trend-Watcher & Lec...

Paul Wolfowitz

Foreign & Security Policy Expert

Juan Zarate

Former Deputy Assistant to the President and Deputy ...

Joseph Stiglitz

American Economist, Professor at Columbia Universit...

Chris Hedges

Foreign Correspondent & Author

Roya Hakakian

Iranian Poet, Journalist & Author
More like Dr.