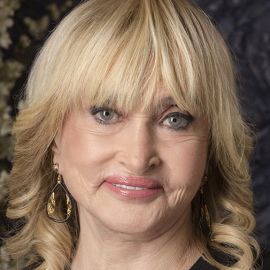 Dr. Erica Miller was born on November 10, 1933. From birth to age seven, Erica and her family lived a 'normal' life in Tshernovitz, which is now part of the Ukraine. In 1940 when Erica was seven, she and her family were among thousands of Jews herded into cattle cars and transported to a Nazi holding camp.
In 1944, after four years of indescribable oppression and deprivation, Erica, her parents, and her sister were liberated by the Russians. Erica had no formal education while in the concentration camp. Her first time in school was at age 11 (or fifth grade), where she had to learn quickly how to read, write, and do arithmetic. Much to the chagrin of her classmates, she excelled at all three.
By age 15, her family immigrated to Israel, where she pursued her high school education at night and worked during the day. She was the only one among her female peers to earn a high school diploma.
After high school, Erica, unlike other young girls, joined and served in the Israeli Air Force from 1954 to 1956. Being in the Air Force was a dream she was determined to realize. She stood proud and was committed to defending her country. After her time in the military, she landed a prestigious job at the Israeli Government Tourist Information Office (1956-1958).
Next, fate and opportunity took her life's journey to Los Angeles, California, where she attended the University of Judaism (now American Jewish University) to pursue a degree in teaching Hebrew. There she met her future husband, Jerry Miller. They built a nest and filled it with two children.
In 1970, Erica went back to school where she graduated with a Ph.D. in clinical psychology. Shortly afterwards, by making good use of her drive and her husband's marketing skills, they opened a chain of mental health clinics throughout Los Angeles and Orange County. In addition, they ran California Diversion Intervention Foundation, a non-profit organization.
Currently, in addition to public speaking, Dr. Miller oversees her family's real estate business in Austin, Texas. She's written three books, of which the most recent became an international bestseller: "Chronologically Gifted: Aging with Gusto!"
Dr. Miller has always thought of herself as a citizen of the world. In June 2018, she climbed to the 17,000 ft. base camp at Mt. Everest. It's just one example of how her passion for life fuels her endless drive to achieve.
Videos
---
Speech Topics
---
The Audacity of Aging with Gusto
Don't Tell Me I Can't Do It
Living Fearlessly: A Holocaust Survivor's Story
Related Speakers View all
---
Sharon Brous

Senior & Founding Rabbi of "Israel: Knowledge, Advoc...

Deborah E. Lipstadt

Professor of Modern Jewish & Holocaust Studies at Em...

Erin Gruwell

Founder & Executive Director of the Freedom Writers ...

Felice Cohen

Author of the Award-Winning Book "What Papa Told Me"

Susan Stamberg

Nationally Renowned Broadcast Journalist & NPR Speci...

David Biale

Leading Scholar of Jewish Intellectual & Cultural Li...

Vanessa Ochs

Author of "Inventing Jewish Ritual", Winner of 2007 ...

Jeannie Opdyke Smith

Inspiring Holocaust Rescuer

Jamie Geller

Author of the "Quick and Kosher" Cookbook Series

Eric LeMarque

International Best-Selling Author, Olympic World-Cha...

Austin Hatch

Two-Time Plane Crash Survivor, Former College Athlet...

Susannah Heschel

Professor of Jewish Studies at Dartmouth College an...

Naomi Levy

Rabbi, Spiritual Leader & Founder of Nashuva

Susie Fishbein

Cook and Author of the "Kosher by Design"

Carey Lohrenz

First Female F-14 Fighter Pilot in the U.S. Navy, T...

Joyce Maynard

Former New York Times Reporter & Columnist; Best-Se...

J.R. Martinez

Actor, Best-Selling Author, Motivational Speaker, Ad...

Henry Winkler

Actor, Producer, Director & Best-Selling Author; Bes...

Mickey Edwards

Vice President & Program Director, Rodel Fellowships...

Sarah Hurwitz

First Lady Michelle Obama's Chief Speechwriter (2010...
More like Dr.