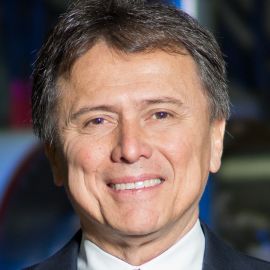 Dr. Franklin Chang Díaz
Former NASA Astronaut, CEO of Ad Astra Rocket Company, Inventor, Space & Energy Entrepreneur
Franklin's story is one of insight and determination on the part of a young man born in San José, Costa Rica who decided at the age of seven that he needed to come to the United States to become an astronaut. At 18, speaking only Spanish and with $50 in his pocket, he traveled to the US for the first time. A year later he'd learned English and earned a scholarship to study Mechanical Engineering at the University of Connecticut before going on to MIT for a doctorate in Plasma Physics and Controlled Fusion where he initially conceived of VASIMR® a rocket engine which promises to revolutionize space travel and put our entire solar system within reach.
Franklin became a citizen while conducting research in nuclear fusion and became NASA's first Latin American astronaut in 1980. At that time, only military personnel flew the missions while scientists engineered the rockets and commanded crew from ground control. In 1986, hard work paid off and he took his first trip to space aboard the shuttle Columbia and went on to tie the world record for missions flown–seven shuttle missions and over 1600 hours in all including 19 hours of space walks to help build the International Space Station. Franklin's second mission was originally slated to be the ill-fated Challenger mission in 1986, but his crew got reassigned to the Columbia mission which flew just months before.
After 25 years of government service, including founding and directing NASA's Advanced Propulsion Laboratory, Dr.Chang Díaz retired from NASA and established Ad Astra Rocket Company and has continued the work to bring VASIMR® to space flight readiness in partnership with NASA. VASIMR® enables numerous in space missions & operations. These missions including the deflection of potentially threatening asteroids, the removal space debris that currently orbit the Earth, cargo transfers to the moon, and even the potential of faster, more efficient manned missions to Mars and beyond.
Ad Astra's Costa Rica facilities also boast the first carbon free hydrogen dispenser in all of Latin America and operate the first Hydrogen Fuel Cell bus in Central America. Their goal is to be an example for other developing countries to achieve self-sustainable, carbon-free, energy.
Videos
---
Speech Topics
---
Journey from Immigrant to Astronaut to CEO
Renewable Energy & Electric Transportation
Related Speakers View all
---
Linda Alvarado

CEO of Alvarado Construction & National Women's Hall...

Nely Galan

Independent Producer & Former President of Entertain...

Diane Guerrero

Immigration Reform Activist & Actress Known for "Ora...

J.R. Martinez

Actor, Best-Selling Author, Motivational Speaker, Ad...

Peter Diamandis

Founder & Executive Chairman of the XPRIZE Foundatio...

Jonny Kim

Physician, Navy SEAL, NASA Astronaut & First Korean-...

Diana Trujillo

NASA Aerospace Engineer & Mission Lead for the Mars ...

Tiki Davis

Award-Winning Entrepreneur, Successful Businessman, ...

Geisha Williams

CEO & President at PG&E Corporation

Thomas D. Jones, PhD

Former NASA Astronaut & Planetary Scientist; Author

Ben Kacyra

Ben Kacyra is the founding director of CyArk, a nonp...

Erik Qualman

Top Digital Transformation Expert, Futurist & Bestse...

Leticia Gomez

CEO & Founder, Savvy Literary Services

Richard Montañez

Vice President of Multicultural Sales & Community Ac...

Michelle J. Lamont

Influential Entrepreneur, Founder & CEO of Lamont PR...

Sonja Crosby

Actor, Voice Talent, Model, Host, Entrepreneur, Emce...

Kendal Netmaker

One of Canada's Leading Entrepreneurs & Author

Benjamin Raymond

CEO of Raymond Insurance Agency & Bestselling Author...

Arian Simone

Entrepreneur, Philanthropist, Investor, Best-Selling...

Maja Kazazic

Entrepreneur, Strategist & Genocide Survivor
More like Dr.