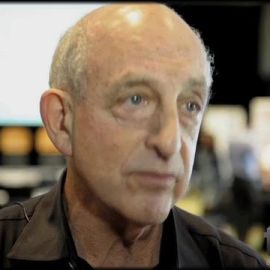 Dr. Fred Grosse
Dr Grosse earned his undergraduate degree at Union College in New York.
Dr Grosse earned his undergraduate degree at Union College in New York and his doctorate in clinical psychology from International College in Los Angeles. Following intensive psychotherapy training, Dr Grosse founded the Gestalt Growth Center in Phoenix, Arizona. Having worked with hundreds of Business Executives, Managers and Sales People, he established the Institute for Management, Organization and Motivation. From his vast experience in working with the human mind, Dr Grosse coaches business people on how to double and triple their incomes in less time.
Today's super-achievers turn to Dr. Fred Grosse when they are ready to design lives and corporate cultures where affluence and quality of life are mutually inclusive. His clients are luminaries of the real estate, insurance, automotive and other key industries, as well as private individuals who pursue excellence as a matter of course.
Dr. Fred Grosse has proven to be a master at pinpointing specific key strategies that empower and inspire the top echelons to achieve a level of results even they have found elusive: Those who know there are still more goals and dreams to be realized in this lifetime High achievers who want to further maximize their income, sharply limit the time it takes to produce it and simultaneously take a quantum leap towards identifying and fulfilling their unique purpose and life goals.
Dr Grosse is most frequently referred to as the unfair advantage among results-oriented audiences and clients. The critical edge honed in his seminars and private coaching partnerships endows recipients with a level of productivity that can never be equaled merely by working harder - only by working smarter. He teaches deceptively simple psychological tools that immediately undo subtle obstacles that keep even top achievers from fulfilling their destiny.
Dr Grosse's seminars, private coaching and corporate consulting relationships attract the leadership and top earners from such prominent companies as RE/MAX, MONY, The Prudential, Harcourts (New Zealand), AMP (Australia/New Zealand), Pearl Assurance (United Kingdom) and McGrath Partners (Australia). His unique talents and expertise enable participants to permanently transform self-limiting habits into dollar-productive behavior coupled with maximum-rewards enjoyment. They discover the strategic use of the mind as their greatest potential growth center. Dr Grosse gives clients mechanisms whereby personal effectiveness is optimized even during times of upheaval triggered by interpersonal and departmental conflict, restructuring and downsizing, as well as the unexpected challenges of record revenues and unexpected rapid growth.
Dr Grosse holds a Master's Degree, and received his Doctorate in Clinical Psychology in 1981. He has been president and senior staff member of Phoenix, Arizona's Gestalt Growth Center Ltd., and is co-founder, co-director and senior trainer of the Gestalt Institute of New Zealand. For more than twenty-five years he has focused his expertise as a business psychotherapist and trainer, guiding corporate clients with a vast spectrum of services including Strategic Planning, Team and Executive Development, Reorganization, Mergers and Acquisitions, Partnership Relations & Dissolutions. Courses cover a diverse range such as Management Development, Goal Setting & Implementation, Time Management & Prioritization, Employee Satisfaction, and Stress Management.
Dr Grosse is founder and CEO of the Institute for Management, Organization and Motivation, an international seminar and management consulting firm based in Phoenix, Arizona, and Christchurch, New Zealand. He is an ordained rabbi who has specialized in marriage and family counseling, organizational development, management and leadership. His background - humanistic and scholarly - informs all of his work, lending humor, practical perspective and solid grounding to his public presentations, consulting, and private.
Related Speakers View all
---
Bill Treasurer

Bill Treasurer is the Founder and Chief Encouragemen...

Peter Sims

Entrepreneur & Best-selling Author; Known for "Littl...

Mark DeVolder

Change Management & Employee Engagement Expert

Dr. Will Miller

Educator, Psychotherapist, Author & Humorist

Jeremy Kingsley

Speaker, Best-Selling Author & President of "OneLife...

Rick Olson

Rick Olson is considered one of the foremost communi...

Shawn Achor

Harvard Professor & Researcher; Positive Psychology ...

Mike Jaffe

9/11 Survivor; Human WakeUp Call

Brian Adams

Brian Adams is a published author and award-winning ...

Scott Johnson

Heading into the 1984 Olympics, everyone assumed tha...

Ricky Kalmon

Ricky Kalmon is known throughout the country for red...

Garrison Wynn

Comedian & Motivational Business Expert

Joe Healey

CEO of Faster Asset Solutions, Inc.; Author; Consult...

Curtis A. Zimmerman

Both as a speaker and as an author, Curtis has impac...

Dan Thurmon

Author & Peak Performance Expert

Robert Stevenson

Author of "How to Soar Like an Eagle In A World Full...

Steve Sax

Five-Time MLB All-Star & Mental Health Advocate

Yvonne Oswald

Please view power point information. If you have an...

Mike Mckinley

Motivational Expert & Founder of a Publishing House

Vicki Hitzges

Teambuilding Motivational Speaker, Author & Former T...
More like Dr.