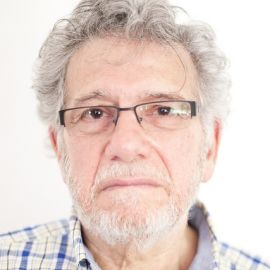 Dr. Gerald Caplan
Genocide Prevention & African Issues Expert
Gerald Caplan has an MA in Canadian history from the University of Toronto and a Ph.D. in African history from the School of Oriental and African Studies at the University of London. He has been a lifelong social and political activist with close ties to the New Democratic party of Canada and a lifelong commitment to African development.
Once an associate professor in the Department of History and Philosophy of Education at the Ontario Institute for Studies in Education (OISE)/University of Toronto, he is the author of two scholarly history books and a collection of his newspaper articles, two UNICEF reports (child labor and children in conflict), two major Canadian public policy studies (broadcasting and education), and many articles and book reviews in newspapers, magazines and academic journals.
Since 1999 a central interest has been the Rwanda genocide. Gerald Caplan has visited Rwanda more than a dozen times and has written and spoken widely about the Rwandan genocide as well as other genocides and genocide prevention. He is the author of a comprehensive report called Rwanda: The Preventable Genocide, prepared for the International Panel of Eminent Personalities established by the Organization of African Unity to Investigate the 1994 genocide in that country.
In recent years as well, Gerald Caplan has been (among other things) a member of the senior experts' team undertaking an evaluation of the United Nation's African development agenda on behalf of the UN's Special Coordinator for Africa; a senior consultant for the UN's Economic Commission for Africa, based in Addis Ababa; a senior consultant for the United Nations Development Program; and a senior consultant for UNICEF, the World Health Organization and the African Union in preparing an Action Plan for improving the well-being of African children that was presented to a Summit of African Heads of State.
His most recent book is The Betrayal of Africa in which he attempts to synthesize his lifetime's immersion in Africa.
He writes a weekly online column for the Globe and Mail and appears weekly on CBC TV's Power and Politics show as a political analyst.
Related Speakers View all
---
Joseph Sebarenzi

Former Head of the Rwanda Parliament, Author & Lecturer

John Dau

Sudanese Refugee & Activist

Bernard Kouchner

Former French Minister of Foreign & European Affairs

Jesse Jackson

Civil Rights Activist & Politician

Jason Russell

Co-Founder of Invisible Children and Director of the...

George Monbiot

Investigative Journalist, Known for his Environmenta...

His Excellency Mikheil Saakashvili

Governor of Ukraine's Odessa Oblast, former Presiden...

Jared Polis

Entrepreneur & Governor of Colorado

Kumi Naidoo

Executive Director African Civil Society Centre

Hugh Evans

Humanitarian; Founder & CEO of Global Poverty Project

Dean Karlan

Behavioral Economist, Social Entrepreneur & Author

Paul Snelgrove

Paul Snelgrove led the group that pulled together th...

Prince Zeid Ra'ad Al Hussein

Diplomat & Former United Nations High Commissioner f...

Rye Barcott

Co-Founder & CEO of With Honor, Veteran and Author o...

Ray Zahab

Ultra-marathon Runner and Adventurer; Host, "The Pro...

John Wood

Founder & Board Co-Chair of Room to Read; Former Mic...

Nicholas Burns

Professor of the Practice of Diplomacy & Internation...

Valentino Achak Deng

Surviving Lost Boy of Sudan, Co-Founder of the VAD F...

Kevin Powell

Writer, Humanitarian, President of BK Nation

Raj Patel

Award-Winning Writer, Activist & Academic
More like Dr.