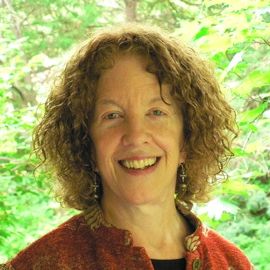 Dr. Harriet Lerner
Authority on the Psychology of Women and Families, Author of New York Times Bestseller, "The Dance of Anger"
Harriet Lerner was born in Brooklyn, New York, on November 30, 1944. She is the second of two daughters of Rose and Archie Goldhor. Her parents were first-generation Americans, both born to Russian-Jewish immigrant parents. They were high school graduates who held jobs they did for paychecks but avocations that brought them great joy.
Archie worked for the New York State Employment Agency for more than thirty years, but his real love was his shop in the basement of their house. "He could build anything", says Lerner. "He made all of our furniture, along with toys, lamps and jigsaw puzzles. He loved rosewood, classical music, The New York Times, and peace and quiet. He had a peace-at-any-price philosophy, which I did not abide by."
Lerner's mother, Rose, worked in an office, but her passion was art. When she was in her late fifties, she started working for artists she admired; in exchange, she asked for artwork, thus creating an art gallery in her home. Rose, who died recently at the age of 94, left her daughters a wonderful collection of paintings and sculpture and, more important, an enduring love of art and beauty.
Lerner's sister, Susan, five years her senior, is a biologist and researcher in Cambridge, Massachusetts. The two sisters have collaborated in writing award-wining children's books; their first is called What's So Terrible About Swallowing an Apple Seed (HarperCollins). Their latest book Franny B. Kranny, There's A Bird in Your Hair! (HarperCollins)
Growing up, Harriet and Susan often spent weekends at the Brooklyn Botanical Garden, the Brooklyn Public Library and the Brooklyn Museum. "These places were free and just a subway token away."
Lerner's mother had an unwavering belief in her daughters and strong principles about how to raise children. In Harriet's words:
Even during the hardest economic times, Harriet's mother always ensured her daughters had the things necessary for success, including a therapist. Her mother "thought [therapy] was a learning experience."
Her mother's belief in therapy undoubtedly contributed to Lerner's career choice. She decided to become a clinical psychologist before finishing kindergarten - a decision she never veered from.
EDUCATION AND CAREER
Lerner attended local public schools in Brooklyn including Midwood High School. She did her undergraduate work at the University of Wisconsin at Madison, where she majored in psychology and Indian studies. She spent her junior year studying and doing research in Delhi, India. Lerner received an M.A. in educational psychology from Teachers' College of Columbia University and a Ph.D. in clinical psychology from the City University of New York. It was there that she met and later married Steve Lerner, also a clinical psychologist. The couple did a pre-doctoral internship at Mt. Zion Hospital in San Francisco and moved to Topeka, Kansas in 1972 for a two-year postdoctoral training program at the Menninger Foundation, where they subsequently joined the staff
"We always planned to move back to Berkeley or New York," says Lerner. "But two years in Topeka turned into two decades - and then some" She now identifies herself as a Kansan and claims to have overcome her coastal arrogance. She has grown to love the simple life (meaning she has never had to learn to parallel park) and the big open skies. After Menninger closed shop in Topeka and moved to Houston, Lerner and her husband moved to Lawrence, Kansas where they currently have a private practice. They have two sons, Matt and Ben.
Lerner is best known for her work on the psychology of women and family relationships. Feminism and family systems theory continue to inform her writing. She has dedicated her writing life to translating complex theory into accessible and useful prose, an d has become one of our nation most trusted and respected relationship experts.
Lerner's books have been published in more than thirty foreign editions with book sales of over three million. Her "Dance" books include The Dance of Anger The Dance of Intimacy, and The Dance of Deception, The Mother Dance and The Dance of Connection.
Lerner is also the author of Life Preservers: Good Advice When You Need It Most, and Women in Therapy, a feminist revision of psychoanalytic theory and practice
Lerner's latest book (May 2004) is The Dance of Fear: Rising Above Anxiety, Fear and Shame to Be Your Best and Bravest Self.
Speech Topics
Programs include:
• The Dance of Connection - How to talk to someone when you're mad, hurt, etc. • Marriage and Couples - 10 steps to making your relationship work • Mothers and Daughters - the Crucial Connection •The Mother Dance - How Children Change Your Life • Good Advice When You Need It Most Additional Topics: • The Dance of Courage • The Dance of Anger • The Dance of Intimacy • The Dance of Deception • The Dance of Life: New Steps to Remarkable Relationships • Communication and Connection in Key Relationships • Deception, Loss, and Other Unspeakable Subjects • Transforming Key Relationships from Theory to Practice (or Action) • Marriage and Family Relationships • The Challenge of Self-Esteem. • Dealing with Anger in the Workplace. • Special issues for Women. Lectures can be mixed & matched & tailored for a particular group. Lectures can be addressed to both men and women or can be tailored to meet the special interests of an all female audience. 
Videos
---
Related Speakers View all
---
Josh Sundquist

Author, Paralympian & Motivational Speaker

Amanda Gore

Psychologist; Expert in Emotional Intelligence and P...

Michelle Borkin

Michelle Borkin is a PhD candidate in applied physic...

Genifer Murray

Genifer Murray / Founder and CEO of CannLabs

Christine K. Clifford

Professional Speaker, Author, Consultant President/C...

Grant Korgan

Spinal Cord Injury-Recovering Athlete & Motivator

Alison Thompson

Humanitarian & Author of The Third Wave

Yael Cohen Braun

Activist, Social Entrepreneur, Founder, F*ck Cancer

Kevin Stone

Kevin Stone\'s clinic treats joint injury using the ...

Harvey Fineberg

President, Institute of Medicine

Richard Resnick

CEO of GenomeQuest

Mark A. Eisenhart

I am an actor, model, motivational speaker, writer, ...

Lindsey A. Carmichael

Lindsey A. Carmichael is a native Texan who spent he...

Cynthia Toussaint

Cynthia Toussaint was a 21-year-old accomplished bal...

Dashama

Dashama is an internationally known teacher, author,...

Eleanor Fineran

Nationally Certified Hypnotherapist and Reiki Master...

James Autry

Leadership Expert; Former Fortune 500 Business Execu...

Mark Roth

Cell Biologist, Fred Hutchinson Cancer Research Center

Bernard Siegel

Patient Empowerment Expert

Barbara Glanz

The Employee Motivation Expert
More like Dr.