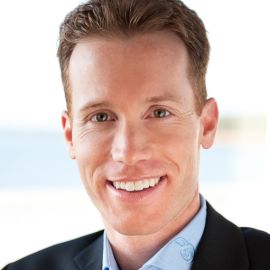 David Nico, PhD is recognized as one of "America's Ultimate Experts" according to Woman's World Magazine. As a peak performance strategist, keynote speaker, and certified lifestyle medicine coach, his passion is to help leaders live well so they can model vitality, inspire vision, and create a legacy. As a well-being catalyst, his advice helps organizations integrate customized wellness solutions with current lifestyle health principles, practices, and products. David is the author of the bestseller Diet Diagnosis and his health tips air on national television networks reaching millions of viewers. He is an expert voice quoted in the media outlets Forbes, Business Insider, US News & World Report, MSN, Men's Health, Prevention, Reader's Digest, USA Today, and more. Nico's work is endorsed by New York Times best-selling authors, distinguished professors, and top marketplace leaders.
Speech Topics
---
Resilient Leadership
A recent survey inquired about best leadership practices for executives.
I will address current events including strategies about their recommendations for protecting leadership and employee well-being.
Will teach a new approach to create your most desired result and personal transformation. Presentation with option to include interactive Q&A.
Leadership strategies to transform failure, burnout, and disunity to energy, purpose, and focus.
Exhausted? Challenged? Overwhelmed? Has the thrill of work vanished? It's time to Recharge, Revive, and Renew—You! Healthy organizations focus on improving wellness to increase performance, resilience, and profitability.
Recharge Your Energy -Learn simple, practical, and powerful habits to boost vitality.
Revive Your Company -Build a healthy company experience and lasting employee engagement.
Renew Your Vision -Reignite purpose, meaning, and focus to your life and work.
Health Culture
A recent survey inquired about best leadership practices for executives. I will address current events and strategies for creating a culture of health and well-being.
How to boost talent and company success and growth by leading and implementing a corporate "health" culture.
The connection between healthy habits and happiness is increasing exponentially. Organizations desire to improve performance, productivity, and profitability. A positive culture with the right practices and techniques benefits all stakeholders.
Healthy habits yield happy people. Happy people lead to healthy organizations.
In this engaging talk, discover:
• How to reduce negative stress. • Healthy foods to energize your people. • How to have a positive outlook at work.
Healthy Meeting Reboot
A recent survey inquired about best leadership practices for executives. I will address current events and strategies for creating healthier meetings and events.
How do you fuel your meetings and make them more dynamic? Incorporating healthier F&B options will energize sessions, yield productive results, and create positive feedback. Discover cutting-edge food science that will help you select the right foods to impact attendee stamina, concentration, and learning. What your participants consume will make or break the effectiveness of your events.
In this session, learn: • Vital tips to navigate the best vs worst ingredients on menus. • How to discern truths vs myths on the foods you typically order. • How quality nutrition enhances an organization's effectiveness, impacting the bottom line.
Lead Whole
Lead Whole will help leaders pave a healthier path to influence while creating an eternal impact.
Learn what it means to live and lead whole. Members will discover the habits that will help them to live a more intentional life in spirit, soul, and body.
It's estimated that by 2030, half of adults will be diagnosed with a form of cancer or have diabetes. Health care is often the most significant expense for many companies and their employees.
Leaders must take action to prevent problems before they occur by infusing their corporate cultures with healthier choices. The success of organizations is determined by the vision, goals, and action steps demonstrated by leadership.
Healthy leaders must be whole, so they can lead whole.
In Lead Whole, learn the pillars for healthy leadership:
• How to nourish body, soul, and spirit. • How to maximize self-leadership. • How to create a sustainable legacy.
News
---
Related Speakers View all
---
Dr. Mehmet Oz

Cardiothoracic Surgeon; Host of "The Dr. Oz Show;" C...

Montel Williams

Emmy Award-Winning Talk Show Host Best Known For "Th...

Dr. Dean Ornish

Physician, Leading Researcher in Healthcare, Founder...

Joan Borysenko, Ph.D.

Behavioral Scientist & Best-Selling Author

David Zinczenko

Former Vice President of Men's Health, Women's Healt...

Adewale Troutman, MD, MPH, MA, CPH

President, American Public Health Association (APHA)...

Dr. Ian Smith

Doctor, New York Times Bestselling Author, Medical C...

David Casarett MD

Physician, Author, Researcher, Entrepreneur

Larry Komer, MD

Peak Performance Institute, Healthcare Innovation Ex...

Andy Puddicombe

Co-Founder of Headspace

Toby Cosgrove

Former CEO & President at Cleveland Clinic

Marty Makary, M.D.

Healthcare Futurist, Johns Hopkins Surgeon & Profess...

Elaine Sanchez

Caregiver Speaker, Author & Co-Founder of CaregiverH...

LeAnn Thieman

Registered Nurse & Co-Author of Chicken Soup for the...

Christiane Northrup

Authority on Women's Health, Bestselling Author of "...

Henna-Maria Uusitupa

Microbiome Researcher

Dr. John Amaral

Co-Founder of Body Centered Leadership, Chiropractor...

Anne Ornish

Vice President of the Preventive Medicine Research I...

Donna Wright

Team & Leadership Consultant for Creative Health Car...

Anthony William

New York Times Bestselling Author of "Medical Medium"
More like David