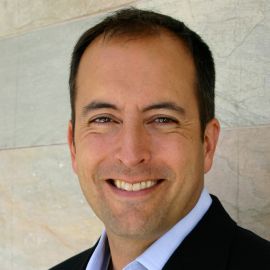 Dr. Jeff Belkora
Speaker on College Students' Decision-Making Skills
Jeff's work as the director of the Decision Services Unit at the University of California San Francisco Medical Center has captured national attention. The unit recently won an award from the Mayo Clinic's Center for Innovation for its "ideas that had the potential to transform for the better the way health care is experienced and delivered." In his ground breaking work, Jeff has studied patients making the most critical decisions about aggressive medical therapies. He's discovered that the steps that help a patient make thoughtful, informed decisions about dealing with cancer can be widely applied to others making difficult decisions.
Jeff is an assistant professor at UCSF where he studies and teaches leadership, teamwork, and decision making. He has spoken about his innovative training and decision-making programs to audiences across the globe. He is the author of peer-reviewed journal articles, book chapters and case studies.
Videos
---
Speech Topics
---
SCOPED! The Science of Smart Decisions
Rules for Living: Prescriptions from the Decision Doctor
99.9996% (A Refreshing Take on Risk Reduction)
Related Speakers View all
---
Mike Dilbeck

Founder of the RESPONSE ABILITY Project Chair of RES...

Ethan Zohn

Winner of "Survivor" Africa, 2x Cancer Survivor, Ste...

Rick Barnes

Founder and President of Rick Barnes Presents

Tyson Wooters

Tyson Wooters believes in the strength of humble lea...

Corey Ciocchetti

An Assistant Professor of Business Ethics and Legal ...

Steve Whitby

speaker of unique style and substance , storyteller

Toren Volkmann

Advocate for alcohol awareness issues, reducing stig...

Dr. Kevin Snyder

Award-Winning Author and Inspirational Keynote Speaker

Daniel Seddiqui

Explorer & Cultural Analyst

Sam Davidson

Speaker, Author and Social Entrepreneur Helping Peop...

Chris Blackburn

Former contestant on NBC's "The Biggest Loser"

James Robilotta

James grew up on Long Island in Sayville, NY and att...

Jason Regier

Jason has been playing Quad Rugby for over 10 years.

Elaine Penn

Nationally Recognized Speaker, Trainer and Performer...

Andrea Mosby

A Powerful Speaker Who Truly Believes in Inspiring C...

Tish Norman

Tish is the founder and Executive Director of Transf...

Justin Jones-Fosu

Inspirational Speaker, Award-Winning Entrepreneur, I...

Hudson Taylor

Columbia Wrestling Coach; Founder of Athlete Ally

Hajii Otto

Hajii, "The Chill Out Guru"™, is President of ...

Michelle Guobadia

Michelle received her bachelor's degree from the U...
More like Dr.