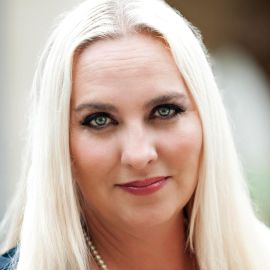 Dr. Julie Ducharme
Author, Business Consultant & Entrepreneur
Dr. Julie Ducharme is a sought-after keynote speaker, author, business consultant, entrepreneur, instructor, and a special consultant in women's empowerment. Dr. Ducharme is the creator, founder, and CEO of Julie's Party People, JD Consulting, and Synergy Learning Institute a technical vocational college. Dr. Ducharme travels the world speaking to organizations, colleges, and groups on leadership, marketing, empowerment, and business.
Dr. Ducharme has been a consultant, instructor and serial business entrepreneur for the last 17 years. Helping colleges shape their programs, getting the business off the bottom floor and helping individuals and businesses flourish and grow. And passionately empowering women to make a change.
Dr. Ducharme is an award-winning author with her book Leading by my Ponytail, Why can't I wear pink and be the president. This book hit Inc Magazine top 60 leadership books written by women to read. Dr. Ducharme is a change maker as she works to help women veterans transitioning back to civilian life and get jobs. She hits on key empowerment topics and programs for women as well. She has won tops awards from national titles to best papers for IBAM and more. Dr. Ducharme has been nominated for women in leadership making change award, holds national titles, and is an award-winning speaker.
Dr. Ducharme recently launched two e-courses called Slippers to Stillettos and Combat Boots to Heels. These courses are based on her best selling book.
Dr. Julie Ducharme resides in San Diego CA. with her husband and two kids Abby and Micah. She has a BA in Communication and MBA with a specialization in Marketing and a Doctorate of Business administration with a specialization in leadership. Her combined experience in the industry, as well as education, gives her the ability to take real-life business situations an solve them with proven results.
Videos
---
Speech Topics
---
Business, Entrepreneurism, Marketing, Leadership, Women's Empowerment
Related Speakers View all
---
Jaime Schmidt

Founder of Schmidt's Naturals, Acclaimed Entrepreneu...

Linzi Boyd

Founder of Business of Brand Group; Author of "Brand...

Nancy Twine

Founder & CEO at Briogeo Hair Care

Melanie Perkins

Co-Founder & CEO of Canva

Jodi Bondi Norgaard

Founder of Dream Big Toy Company & Creator of Go! Go...

Emilie Aries

Author, Podcaster, Founder & CEO of Bossed Up

Michele Ruiz

Bi-lingual Entrepreneur and Public Speaker Whose Pas...

Sheila Marcelo

Founder & CEO of Care.com, the World's Largest Onlin...

Heather Monahan

Author of "The Confidence Creator", Entrepreneur & F...

Kioka Tanksley

Billionaire Brand Consultant & CEO of Royalty Reigns...

Danielle Roberts

Medicare Insurance Expert; Female Entrepreneur of a ...

Marissa Orr

Leadership Speaker, Former Google & Facebook Markete...

Carol Cone

CEO at Carol Cone ON PURPOSE

Dean Graziosi

Entrepreneur, Marketer, Success Coach, Author, Real ...

Kathleen Griffith

Founder & CEO of Grayce & Co

Allyson Kapin

Founder of Women Who Tech; Founder of web agency Rad...

Tema Frank

Omnichannel Customer Experience Pioneer; Making life...

Jonathan Sandys

Speaking on the life & leadership of my great-grandf...

Sarah Prout

Best-Selling Author of "Dear Universe," Award-Winnin...

Kelly Lovell

Entrepreneur, Thought Leader , Millennial Influencer...
More like Dr.