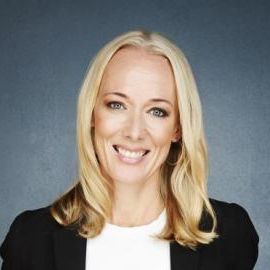 Dr. Karyn is the Founder and CEO of DK Leadership, a leadership & relationship expert, a dynamic motivational speaker, a best-selling author, a TV personality for Good Morning America (USA's #1 Morning Show), and Cityline (Canada's #1 Daytime Show) as well as a TV producer for SUCCESS Stories (Rogers).
About DK Leadership Her company, DK Leadership, specializes in coaching Emotional Intelligence skills for organizations and families. After receiving many requests from clients, DK Leadership in 2017 launched "Success Intelligence: An Emotional Intelligence Training Program" – a program designed specifically for top HR professionals and organizations. This inspiring and customizable online platform has the capability to measurably transform all levels of leadership within a company – by fueling organizational engagement, increasing employee retention and developing an energized workplace culture. This program highlights Dr. Karyn's unique ability, which is communicating complex research in a simple and passionate way to diverse audiences (from students to Fortune 500 CEO's). Dr. Karyn's specialty is inspiring leaders at all levels to take action – maximizing their performance and success!
Motivational Speaker A passionate motivational speaker and powerfully effective coach, Dr. Karyn has delivered over 1000 keynotes to more than ½ million people from 15 countries. Her clients include Fortune 500 companies, family businesses, government agencies, entrepreneurs, educational schoolboards and professional organizations (representing doctors, surgeons, dentists, lawyers, judges, accountants, engineers and many more occupational groups).
Professional Counsellor & Coach A professional coach for over 20 years – she has applied her highly strategic solution-oriented approach to great success with both organizational systems (managers & employees) & family systems (marriages & families). In working with companies, her specialty is in understanding the complexities required for building an effective multi-generational workforce. Dr. Karyn excels at equipping managers so they can successfully manage any mix of generations (i.e. Baby Boomers, Generation X, Generation Y and Generation Z). Her wealth of experience in both corporate and family cultures gives her refreshing insight into how Emotional Intelligence impacts both professional and personal performance levels.
Educational Background & Media Spokesperson With a Doctorate in Marriage & Family and certifications in Leadership and Emotional Intelligence, Dr. Karyn was invited to collaborate with professors from The Wharton School (currently the number #1 business school in the world according to Business Insider) to develop an Emotional Intelligence training curriculum specifically for family businesses. John Prato, The Consul General of Canada in New York, hosted a reception in 2013 honoring her work with New York families and organizations. Over the years, she has served as the media spokesperson for Loblaws, Maple Leaf Foods, Johnson & Johnson, Microsoft, eHarmony and UNICEF.
Together with her dynamic team, she has created many inspirational and measurable resources to teach success through Emotional Intelligence. Why? Because research has demonstrated that Emotional Intelligence is the greatest predictor of success in work and in life. Dr. Karyn is passionate about what she does because she knows that anyone can learn these skills, it just takes an effective coach to show them how!
Philanthropy & Personal Passions Dr. Karyn is passionate about giving back to her community. She partnered with World Vision and numerous schools to build a new school in Haiti in 2011, and every year she sponsors 20 parent engagement events in schools. In 2018 she partnered with the Local Poverty Reduction Fund / Ontario Trillium Foundation and St. Michael's Hospital in Toronto to provide her leadership events and solution-oriented coaching to 40 young people transitioning out of homelessness, helping to build Emotional Intelligence Skills, identity capital and career direction.
Dr. Karyn lives in Toronto with her adored husband (and business partner) of 16 years and high-energy twin 10 year olds. Striving to live what she teaches, she aims to work smart & play hard! She loves her downtime at their family cottage, playing tennis, traveling, paddle-boarding, skiing, and relaxing with her girlfriends. Decorating is also a personal passion, and both her home & cottage have been featured in the national magazines House & Home & Chatelaine. She is dedicated to understanding the power that environment and organization can have on overall emotional well-being!
Videos
---
Related Speakers View all
---
Rachel DeAlto

Communication & Relationship Expert, Coach, Matchmak...

Charlie Alejandro

Motivational Speaker, Writer, Actress & Radio Talk S...

Suzette Brawner

A conference and event speaker for school, church an...

Malaak Compton

Activist & Philanthropist

Kathy Peel

Founder and President of Family Manager Inc.

Marilyn Sherman

Success Strategist in Times of Challenge and Change;...

Erin Gruwell

Founder & Executive Director of the Freedom Writers ...

Linda Ellerbee

Award-Winning Journalist & Television Producer; Brea...

Linnda Durre, Ph.D.

Psychotherapist, Consultant, Speaker, Trainer, Publi...

Linda Darling-Hammond

CEO of the Learning Policy Institute & Founder of th...

Consuelo Castillo Kickbusch

U.S. Army Veteran, Author

Emory Austin

Authority on Leadership, Change & Customer Service

Linda Armstrong Kelly

Single Mother of Lance Armstrong; Philanthropist & A...

Julie Lythcott-Haims

Former Dean at Stanford University & Bestselling Aut...

Vasavi Kumar

"Freedom Strategist," Indian Woman Living with Bipol...

Dr. Samantha Madhosingh

The Holistic Success Doctor®

Carlton Buller

Helping you to find sucess when you have been progra...

Josie Payne

Organizational Development Specialist

Kathy Koch, Ph.D

Speaker, Teacher, Trainer, Parent Educator, & Author

Julie Barnhill

Author & International Women's Speaker
More like Dr.