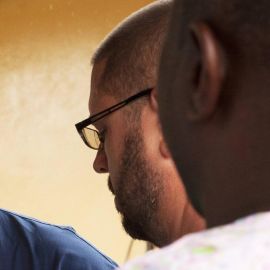 Dr. Kent Brantly, a U.S. medical missionary who contracted Ebola in July while working as a doctor in Liberia and survived the deadly disease after treatment at Emory University Hospital in Atlanta, appeared at a joint Senate hearing today examining the Ebola outbreak. Dr. Kent and Amber Brantly moved with their children to war-torn Liberia in the fall of 2013 to provide medical care for people in great need—to help replace hopelessness with hope. When, less than a year later, Kent contracted the deadly Ebola virus, hope became what he and Amber needed too.
When Kent received the diagnosis, he was already alone and in quarantine in the Brantly home in Liberia. Amber and the children had left just days earlier on a trip to the United States. Kent's personal battle against the horrific Ebola began, and as thousands of people worldwide prayed for his life, a miraculous series of events unfolded. Dr. Kent Brantly, accompanied by his wife Amber and family, served as medical missionaries in Monrovia, Liberia, with World Medical Mission, the medical arm of Samaritan's Purse. Both Kent (BA in Biblical Text) and Amber (BS in Nursing) are graduates of Abilene Christian University. Dr. Brantly received his Medical Degree from Indiana University School of Medicine. He also completed his Family Medicine Residency and Fellowship in Maternal Child Health at John Peter Smith Hospital in Fort Worth, Texas. After contracting the Ebola virus in summer 2014, Dr. Brantly was evacuated to Emory University Hospital in Atlanta, Georgia, where he recovered and was later reunited with his family. Now serving as the Medical Missions Advisor for Samaritan's Purse, Dr. Brantly, Amber, and their two children are based in Texas.
Kent and Amber's book, Called for Life tells the riveting inside story of Kent and Amber's call to serve their neighbors, as well as Kent's fight for life with Ebola and Amber's' struggle to support him from half-a-world away. Most significantly, Called for Life reminds us of the risk, the honor, and the joy to be known when God and others are served without reservation.
Related Speakers View all
---
Dr. Craig Spencer

New York Physician; Tested Positive for Ebola

Thomas Frieden

Director, Centers for Disease Control and Prevention

Ellen Johnson-Sirleaf

Former President of Liberia & Nobel Peace Laureate; ...

Rishi Manchanda

Physician, Public Health Innovator, President & CEO ...

Allison Massari

Executive Coach, Entrepreneur, Visual Artist & Burn ...

Tony Adkins

Physician Assistant For Pediatric Neurosurgery Known...

Jonny Kim

Physician, Navy SEAL, NASA Astronaut & First Korean-...

Adam B. Hill

Pediatric Palliative Care Physician, Author & Mental...

Carl Allamby

From Auto Mechanic To Doctor

Dr. Arun K. Singh

Prolific Cardiac Surgeon, Professor of Surgery at Br...

David Rutherford

Motivational Speaker, Former Navy SEAL Medic & Behav...

Natalie Stavas

Inspirational Boston Marathon Hero, Humanitarian & A...

David Williams

Professor of Public Health at Harvard University

Susan Solomon

Co-Founder and CEO of NYSCF, a Nonprofit Established...

Tara Dall, MD

Expert in Disease Prevention, Heart Disease & Diabetes

Dr. Carl Hart

Professor of Psychology & Chair of Department of Psy...

Dr. Jeffrey Bauer

Health Futurist, Author & Medical Economist

Dot Richardson

Two-time Olympic Gold Medalist & Orthopedic Surgeon

Story Musgrave, M.D.

Retired NASA Astronaut; Physician & Professor at Art...

Margaret Ann Fitzgerald

Founder, President & Principle Lecturer with Fitzger...
More like Dr.