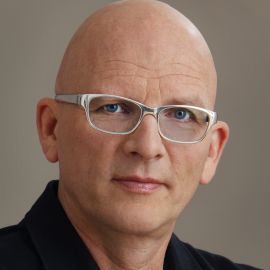 Dr. Kjell A. Nordström has 20 years of experience of working with multinational companies and has served as an advisor/consultant to several large multinationals throughout the world.
Dr. Nordström holds a doctoral degree in International Business from the Stockholm School of Economics. His research and consulting focus is on the areas of corporate strategy, multinational corporations and globalization. Kjell Nordström has published three books and numerous articles on the internationalization process of firms.
Nordström has been responsible for the International Business course at the Stockholm School of Economics and is one of the founders of the schools most prestigious management programs, "The Advanced Management Program - AMP". AMP is a five week top-management program that attracts the elite of Scandinavian executives.
The book Funky Business - Talent makes capital dance (co-authored with Jonas Ridderstråle) is a manifesto of what our time requires from business firms and there leaders. The book has been featured on CNN and CNBC, and appeared in Fortune, Fast Company, Time Magazine, Financial Times, Paris Match, etc. It is an international best seller, so far translated into 32 languages. Funky Business was rated one of the five best business books of the year, by both Amazon.co.uk and Management General, in 2000. The book was also ranked at number 16 in a survey of the best business book of all time.
Nordströms second book Karaoke Capitalism: Management for Mankind (co-authored with Jonas Ridderstråle) is a new manifesto for how to make it in the world of Karaoke Capitalism. Individuals with endless choice dominate the karaoke economy. The trouble for business is that the karaoke club is also home to institutionalized imitation. Copycats abound. Only imagination and innovation place societies, organizations and individuals centre-stage. Karaoke Capitalism is a call to arms. To date Karaoke Capitalism has been contracted for publication in 23 languages.
With his colleague, Jonas Ridderstråle, he recently co-authored, Funky Business Forever, the long awaited update to the international bestseller. Funky Business Forever takes a look back on the later half of the millenniums first decade and provides evolved thinking and commentary in a way that is truly funky and down to business.
Nordström and Ridderstråle are rebels with a cause. With their unorthodox combination of academic rigor, forceful logic and funky freethinking they once again re-write the rules for revolutionaries. This is a true work-out for the wits. In March 2004 the authors appeared on CNN's program "Global Office" for a long interview, recorded in Stockholm, on the ideas behind Karaoke Capitalism. Kjell A. Nordström is an extremely sought after lecturer. He enjoys keynote presentations as well as smaller work shops.
Speech Topics
---
Talent Makes Capital Dance
Multinational Corporations, Recipes and Global Tribes
Creating and Defending Competitive Advantages
The Ultramodern Multinational: Strategies, Structures and Leadership
Related Speakers View all
---
Anil Gupta

Leading Expert on Strategy, Globalization and Emergi...

Muhammad Yunus

Nobel Peace Prize Laureate & Founder of Grameen Bank...

Gary Hamel

Internationally Renowned Expert on Business Strategy...

Jeremy Rifkin

Leading Global Technologist, Futurist, Authority on ...

Geoff Colvin

Editor & Columnist at Fortune Magazine; Author of "H...

Jim Hagemann Snabe

Former Co-CEO of SAP AG; Board member of the World E...

Joseph Stiglitz

American Economist, Professor at Columbia Universit...

Richard Florida

Leading Urbanist, Economist & Author of "The Rise of...

Jeffrey Garten

Professor, Yale School of Management and Expert on G...

Matthew Bishop

Managing director, Rockefeller Foundation and Former...

R "Ray" Wang

Founder, Chairman & Principal Analyst at Constellati...

Geoffrey Moore

Managing Director, Geoffrey Moore Consulting; Ventur...

Ray Kurzweil

Chairman of Kurzweil Technologies; Inventor; Futurist

Vijay Govindarajan

Strategic Innovation Expert and World Renowned Profe...

Ram Charan

World-Renowned Business Advisor, Execution Expert & ...

Jim Carroll

One of the World's Leading Global Futurists, Trends ...

James Canton

Futurist, Author & Visionary Business Advisor

Todd Buchholz

Former White House Director of Economic Policy & CNB...

Dan Ariely

Behavioral Economist; Professor at Duke University; ...

Liene Stevens

Author, speaker, and behavioral psychology expert wh...
More like Dr.