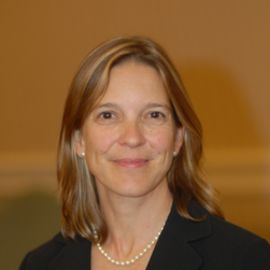 Dr. Lucie Bruijn
Chief Scientist of the ALS Association; Senior Advisor at the Dementia Discovery Fund
Lucie Bruijn, Ph.D. joined The ALS Association in January 2001 and is currently the Chief Scientist. Prior to that Dr. Bruijn led a team at Bristol Myers Squibb developing in vitro and in vivo model systems for neurodegenerative disease. Realizing the potential of stem cell therapy for neurodegenerative diseases, her team worked with experts in academia to establish stem cell studies at Bristol Myers Squibb.
Along with her work with The ALS Association, Bruijn is a Senior Advisor at the Dementia Discovery Fund as a part of the SV Health Investors team.
At The ALS Association, Dr. Bruijn leads a global ALS research effort, Translational Research to Advance Therapies for ALS (TREAT ALS™) with the goal to move treatment options from "bench to beside." She has made it a priority to collaborate with other funding agencies, in particular The National Institute of Health, The Department of Defense and many other not-for-profit ALS organizations, as well as other foundations focusing on neurodegenerative research. These collaborations ensure that increased dollars are spent on ALS research. She is involved in project development, encouraging partnerships with academia and biotech, and has played a key role in forging collaborations amongst investigators. It is her strong belief that only through collaboration among a wide range of disciplines will we be successful in changing the course of ALS and finding a cure.
Through participation at scientific meetings both nationally and internationally ALSA receives wide-spread recognition amongst the scientific community. Dr. Bruijn represents The ALS Association on several scientific and research committees world-wide and acts as advisor to scientists, government officials and industry leaders seeking council in the field of ALS research. She continues to publish in the field in peer-reviewed journals and remains actively engaged in understanding the most recent research developments.
Dr. Bruijn received her Bachelor's degree in Pharmacy at Rhodes University, South Africa. She received a Master's degree in Neuroscience and a Ph.D. in Biochemistry, specializing in disease mechanisms of Alzheimer's disease, at the University of London, United Kingdom. She received her MBA at Imperial College, London, United Kingdom. She joined Dr. Don Cleveland's laboratory in 1994 where she developed and characterized a mouse model of ALS (mice expressing the familial-linked SOD1 mutation). Using this model her studies focused on disease mechanisms. In addition, in collaboration with Dr. Robert Brown she looked for neurofilament mutations in familial and sporadic ALS patients.
In addition to her work, Bruijn serves as an advisor to several non-profit, biotech, industry and government partners providing expertise in neuroscience research. She is a ceramicist, enjoys theatre, travel, skiing and squash.
Videos
---
Related Speakers View all
---
Dr. Steve Perrin

Chief Executive Officer and Chief Scientific Officer...

Hamilton Bennett

Senior Director of Vaccine Access & Partnerships at ...

Maithra Raghu

PhD Candidate at Cornell University

Jeremy Puthumana

M.D. Candidate, Yale University

Kaitlyn Sadtler

Immunologist & Regenerative Medicine Researcher; Chi...

Hasini Jayatilaka

Postdoctoral Researcher at Stanford University

Simon Lin

Chief Research Information Officer in The Research I...

Bart Knols

Scientist, Author, Entrepreneur

Ronald DePinho

President, MD Anderson Cancer Center, University of ...

Dr. Anthony Fauci

Director of the National Institute of Allergy and In...

Hanneke Schuitemaker

Virologist, Global Head of Viral Vaccine Discovery &...

Ofer Levy

Infectious Disease Specialist

Shekinah Elmore

Oncologist; Dedicated to Pursuing Equity & Empathy i...

Tracey Goldstein

Virologist, Associate Director of One Health Institu...

Thomas J Bartosh, PhD

Assistant Professor, Texas A&M University Health Sci...

Dr. Richard Bedlack

Professor of Neurology, Duke University; Director & ...

Dr. Zoltan Lohinai

Pulmonary Oncologist & Researcher at the National Ko...

Craig H. Lipset

Former Head of Clinical Innovation at Pfizer

Christopher Bahl

Molecular Engineer; TED Fellow

Derek B. Lowe

Director in Chemical Biology Therapeutics; Author; R...
More like Dr.