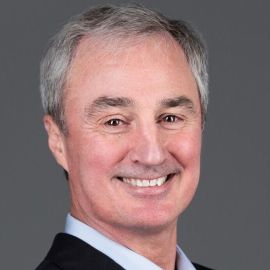 Mark DeVolder distinguishes himself as a change management specialist and is one of today's original thinkers and motivators on transitions. Often in the spotlight for high profile transitions, DeVolder offered guidance for the ending of the NASA Space Shuttle Program, helped Colombian business leaders adapt to the NAFTA Free Trade Agreement and has coached industry leaders in mergers and acquisitions, some as large as $50 billion dollars.
He is a change management and employee engagement specialist with over 19 years of experience in education and research. His doctoral studies focused on the issues of unity, diversity and synergy. With this experience he brings extensive knowledge and understanding about human characteristics to each highly customised presentation, backed up by impressive business acumen.
DeVolder reveals why many change initiatives fail to achieve their stated goals. With straightforward strategies and convincing business examples, he shows leaders how to drive results to improve the bottom line. As an internationally acclaimed speaker, DeVolder has received the Top 5 Speaker Award in Business Management, Top 10 Speakers in Change Management and the Top 25 Speakers Award three years running.
He is the author of "Get Engaged! A Practical Guide for Improving Employee Engagement" and "Unity in Diversity Through Synergy." To him, adaptability, innovation and resilience are essential to success in a world of exponential change. As such, he's dedicated his career to equipping and motivating leaders to harness the hurricane of change.
A globally recognised speaker on change, innovation, engagement and resilience, DeVolder engages audiences the moment he steps on stage. His cutting edge content, valuable take-aways, and entertaining audience interaction, are all illustrated by unstoppable humour and memorable stories. People leave with tools and a template to re-energize, re-engage and transform their workplace and life.
DeVolder's mission and passion is to help people and organizations adapt boldly, nimbly and quickly in the midst of exponential change.
Videos
---
Speech Topics
---
Harnessing the Hurricane: Adapting Faster to Extreme Change
Change is constant, unpredictable and accelerating. Extreme change can – much like a hurricane – leave you dizzy, dazed and disoriented, as though the earth is moving under your feet. Even if you survive the storm, you know more is coming. Change expert Dr. Mark DeVolder throws a lifeline to you and your team with tools and strategies he's developed to clear away the fog. You will learn how to rewire your brain to adapt to change, anticipate future trends and persevere in adversity. Mark's practical principles enable you to act boldly, nimbly and quickly in face of exponential change.  
During Mark's high-octane presentation, you will learn how to: -overcome change-paralysis and get mobilized through transitions -develop change-ready thinking and behaviours -overcome decision-quicksand, making smart-decisions, faster -repeat the cycle of success with the unstoppable power of resilience
Unstoppable Resilience: Developing the Mindset of a Champion
Why doesn't the fastest runner always win the race? Or why doesn't the smartest person always get the best job? Because it's not always the ones who "start out the smartest who end up smartest." (Dweck) It takes more than natural speed, intelligence or ability to be a champion. It takes resilience. But resilience is not just for the elite with an Olympic gold around their neck. Resilience can be learned. Mark shows leaders how to increase their grit, passion and purpose by developing the mindset of a champion. Mark's best practices will help you cultivate determination, increase resilience and conquer adversity. You will learn powerful lessons to help you: -create a winning mindset of self-belief and unlimited potential -increase innovation and creativity through constructive nonconformity -expand tenacity and decision-making responsiveness -develop perseverance, positive attitudes and unstoppable resilience
On Fire! Energized Together, Everyone, Every Day
We live in a VUCA world: volatile, uncertain, complex and ambiguous. It's not surprising that leaders who survive, thrive and deliver in business today have one trait in common; they are resilient. But resilience is not just for a few; it can be learned. Mark shares how to rewire your brain and increase neuroplasticity to spring through adversity, overcome obstacles and reinvent yourself. He reveals success strategies that enable you to adapt boldly, nimbly and quickly in midst of constant change. Mark shows leaders how to: -identify behaviors to increase engagement -re-ignite employee's passion for teamwork, communication and innovation -build a culture of trust, loyalty and appreciation -accelerate performance and productivity Recharge your team with Mark DeVolder's industry-tested program. Get your employees and organization on fire.
Getting to Target Zero: Engaging in High-Performance Safety
Hazards and obstacles abound in the fast and frenzied pace of business today. In the rush to stay competitive, people are increasingly tempted to take short cuts and sacrifice safety. The most common barrier, however, is actually change itself. Some employees feel paralyzed by change, and when they feel paralyzed, they disengage. Without the ability or capacity to change, accidents can happen. During Mark's high-performance presentation, you will learn how to: -get change-right and change-ready -defy change paralysis through Mark's mobilized for safety approach -significantly reduce risk of accidents and liability -identify behaviours that enhance engagement -implement strategies to increase productivity, motivation and safety Empower your employees to achieve "target zero."
Related Speakers View all
---
Haydn Shaw

Expert in Generational and Cross-functional Roles, C...

Doug Lipp

Former Head of Training at Walt Disney University & ...

Adrian Gostick

Founder of The Culture Works & Bestselling Author of...

Eduardo Briceño

Growth Mindset and Improvement Expert; Co-Founder & ...

Libby Gill

Leadership Expert, Executive Coach & Award-Winning A...

Dr. Jackie Freiberg

Corporate Culture & Leadership Strategist, Best-Sell...

J.R. Martinez

Actor, Best-Selling Author, Motivational Speaker, Ad...

Jack Zenger

Co-Founder and CEO of Zenger Folkman; Expert on Lead...

Josh Linkner

Five-Time Tech entrepreneur, Hyper-Growth CEO, New Y...

Mike Abrashoff

Former Commander of USS Benfold & Author of "It's Yo...

Dr. Kevin Freiberg

World-Wide Best-Selling Author, Speaker & Advisor

Ryan Estis

Business Performance Expert & Agent of Change

Chip Eichelberger

Peak Performance, Motivation & Sales Strategist

Bill Capodagli

Author of "Innovate the Pixar Way: Business Lessons ...

Jason Young

Former Senior-Level Manager at Southwest Airlines & ...

Seth Mattison

Co-Founder & Chief Movement Officer of Luminate Labs...

Pat Williams

Motivational Speaker & Sports Executive; Senior Vice...

Polly LaBarre

Founding Member of the Fast Company Magazine, Co-Fou...

Jenn Lim

CEO & Chief Happiness Officer at Delivering Happiness

Vince Poscente

Former Olympic Speed Skier, Leadership & Sales Exper...
More like Mark