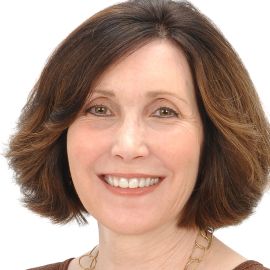 Dr. Marla Gottschalk is an industrial/organizational psychologist, workplace consultant and blogger.
She has held various roles in management consulting and customer research.
Currently she serves as practice manager of organizational development at Rand Gottschalk & Associates. In this role, she helps organizations develop intelligently, to meet evolving demands and customer needs.
Practice focus includes people/workforce analytics, employee engagement, process improvement and organizational development strategies.
As a member of the LinkedIn Influencer Program, she explores current topics related to workplace effectiveness -- including those related to organizational development, employee engagement and personal growth.
She believes we all need strategy when facing workplace challenges -- and that we can adopt viable practices that will help us master the modern workplace with confidence and empowerment.
Her views on workplace topics have appeared in The Wall Street Journal, Time, American Express Open Forum, CareerBuilder, CBS Money Watch, Deskmag and other outlets worldwide.
Her blog, The Office Blend, explores current topics impacting careers and work life (A 2012 "Top 75 Websites For Your Career" blog pick by Forbes).
She is also a contributing blogger at US News & World Report's "On Careers" blog.
Dr. Gottschalk's background includes a Doctorate in Industrial & Organizational Psychology with a minor in Multivariate Statistics, from Wayne State University, and a B.S. in Psychology from Michigan State University.
Her specialties include work survival strategies, organizational development, organizational culture, creativity and generations at work.
Videos
---
Speech Topics
---
How to Super-Develop in 30 Days (or less)
Dr. Gottschalk brings her no-nonsense view on how to help your workplace become happier and more productive. Topics on the table include aligning strengths with the elements of work life, innovation, idea management and developing positivity. If your group requires a fresh and honest perspective concerning their day-to-day work life – and taking personal responsibility to move forward – this conversation is key. Businessman Wearing Cape
The Ugly Truth About Time Management.
Does you and your employees have a healthy relationship with time? This workshop, based upon Dr.Gottschalks' popular blog post, delves into the common problems that we face everyday with managing our time. At the core of the discussion? The solution lies within us.
How to Master Failure
Recent media attention on the importance of failure — and its relationship to success, have taken the world by storm. But, how do we process failure and learn how utilize it productively going forward? This presentation focuses on the need to acknowledge the emotional toll that failure can create and provides a strategy to move though it effectively. (Based upon her popular post as a LinkedIn Influencer.) Let's Face it Gen Y Was Right (But We All Deserve the Good Stuff!) Wondering if your younger employees will ever fit in?
Be More Like Da Vinci
Ever wonder why your organization isn't more innovative? In this presentation Dr. Gottschalk helps decipher the world of innovation and guides your organization and employees onto a path of creativity. Learn how to tap the innovative potential that exists within your own organization and become idea rich.
Related Speakers View all
---
Lori Cheek

Architect; Entrepreneur; Founder & CEO of Cheekd

Linda Descano

President and CEO of Women & Co.; Managing Director ...

Jon Bergmann

Pioneer of the Flipped Class Movement & Bestselling ...

Cheryl Cran

Future of Work & Change Leadership Expert; Author of...

Tim Sanders

Bestselling Author, Technology Pioneer, Expert on Co...

Tony Alessandra

Premier Communications Expert; Author of "The Platin...

Dave deBronkart

Kidney Cancer Survivor & Patient Advocate Known as "...

Troy Hazard

Troy Hazard is the recent Global President of the el...

Jean Bailey Robor

Jean Bailey Robor, award-winning author and inspirat...

David Goldsmith

Business Forecaster & Leadership-Management Expert

Maddy Dychtwald

Co-Founder & Senior VP of Age Wave, Author & Changin...

Jeff Davidson

Expert in Work-Life Balance

Liz Nead

Executive Business & Life Coach

Tina Marie Jones

Connecting with the audience through the style of a ...

Tim Rooney

Helping Businesses Grow Profitably and Maintain a Wi...

Candace Reese

The CEO Pundit: Empowerment Speaker, Inspirational C...

Shawn Achor

Harvard Professor, Researcher & Positive Psychology ...

Garrison Wynn

Comedian & Motivational Business Expert

Doug Lipp

Former Head of Training at Walt Disney University & ...

Dr. Jackie Freiberg

Corporate Culture & Leadership Strategist, Best-Sell...
More like Dr.