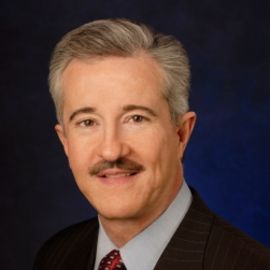 One of TV's most respected medical journalists, Dr. Max Gomez has produced award-winning health and science segments for network stations in New York and Philadelphia.
Gomez has reported for shows such as "Dateline," "The Today Show," and "48 Hours."
With a career spanning over three decades, he's earned nine Emmy Awards, three New York State Broadcasters Association awards, and UPI's Best Documentary award.
In addition to NYC's "Excellence in Time of Crisis" Award for his September 11 coverage, Gomez has been singled out nationally for special award recognition by the Leukemia Society and The National Marfan Foundation. He was also named the American Health Foundation's Man of the Year. He also was awarded the 2011 Alzheimer's Foundation of America's Public Awareness Award for having brought attention to the heartbreaking disease, which Gomez's father suffered from.
A noted moderator and speaker, Gomez is the regular moderator for Memorial Sloan-Kettering's Cancer Smart public education series. He was also the moderator for an international three-day conference on adult stem cells hosted by and held at the Vatican.
Gomez also trains physicians nationally in public speaking and presentation, speaking to groups as diverse as the National Cancer Institute and the College of American Pathologists.
Gomez is the co-author of "Our Stem Cells: The Mysteries of Life" and "Secrets of Healing," a layman's guide to the medicine of the future, showcasing a wide array of emerging adult stem cell breakthroughs, including their ability to repair damaged hearts and organs, restore sight, kill cancer, cure diabetes, heal burns and stop the march of degenerative diseases, such as Alzheimers, multiple sclerosis and Lou Gehrig's disease. It includes a special address by Pope Benedict XVI, urging increased support and awareness for advancements in adult stem cell research in order to alleviate human suffering.
Gomez is also the co-author of "The Prostate Health Program: A Guide to Preventing and Controlling Prostate Cancer." That book explains how an innovative program consisting of diet, exercise, and lifestyle changes may help prevent prostate cancer.
Dr. Gomez has served on many boards including the American Heart Association, Past Chair of National Communications Committee for American Heart Association, Past Vice-Chair of Princeton Alumni Weekly Board, Science Writers Fellowship at the Marine Biological Lab, Crohns and Colitis Foundation of America, The Partnership for After School Education, and Past Chair of Communications Committee for the American Association for the Advancement of Science.
Gomez also mentors undergraduate journalism students, as well as medical students and physicians who are interested in medical journalism. He is an honors graduate of Princeton University and the Wake Forest University School of Medicine (Ph.D. in Neuroscience) and was an NIH postdoctoral fellow at Rockefeller University.
Videos
---
News
---
CBS 2's Dr. Max Gomez Explains His Surgery To Relieve Neck Problems
underwent surgery to relieve severe neck pain from which you may suffer as well.
CBS 2's cameras were inside the operating room, and Dr. Gomez explained that the surgery may work for you, but it also may not.
Dr. Gomez developed pain near the base of his neck on the right side about a year ago. But lately, he had noticed that his right arm and shoulder were a little weaker than his left when he worked out.
Dr. Max Gomez and Saint Barnabas Experts to Address Cancer Breakthroughs
Emmy award-winning WCBS-TV medical correspondent Dr. Max Gomez and a panel of experts from Saint Barnabas Medical Center will be the featured speakers at "Breakthroughs in Cancer: Prevention, Treatment and Survival in 2010", an interactive educational program to be held in Livingston on Sunday, April 18th at 7:30 p.m. The program marks the Tenth Annual Steven A. Gelman Memorial Health Forum and is co-sponsored by Saint Barnabas Medical Center, an affiliate of the Saint Barnabas Health Care System.
Related Speakers View all
---
David Feherty

Golf Commentator on NBC Sports, TV Host, Bestselling...

Rudolph E. Tanzi

Alzheimer's Disease Researcher; Expert on the Geneti...

Dr. Mehmet Oz

Cardiothoracic Surgeon; Host of "The Dr. Oz Show;" C...

Paul Keckley, PH.D

Independent Healthcare Research & Policy Analysis

David Quammen

Science Journalist & Award-Winning Author of "Spillo...

Jim Nantz

Sports Broadcaster Known for Anchoring CBS's Coverag...

Dr. Kevin Freiberg

World-Wide Best-Selling Author, Speaker & Advisor

Daniel Burrus

Technology Futurist, Business Strategist & Hall of F...

David Agus

Professor of Medicine and Engineering at the Univers...

Nelson Dellis

Founder & CEO of Climb For Memory; USA Memory Champi...

Andres Lozano

The chair of neurosurgery at the University of Toron...

Josh Bersin

Global Research Analyst, Principal & Founder at Bers...

Andrew Croshaw

President, Leavitt Partners Consulting; Among the Mo...

Marty Makary, M.D.

Healthcare Futurist, Johns Hopkins Surgeon & Profess...

Jon Cohen

Senior Vice President, Chief Medical Officer and Dir...

Brett King

Best-Selling Author, World Renowned Futurist & Media...

Sandro Galea

Physician, Epidemiologist, Author & Dean of the Bost...

Alanna Shaikh

Global Health & International Development Writer, TE...

Thomas Kolditz

Retired Brigadier General, Professor at Yale School ...

Tom Koulopoulos

Chairman & Founder, Delphi Group; Business Author, V...
More like Dr.