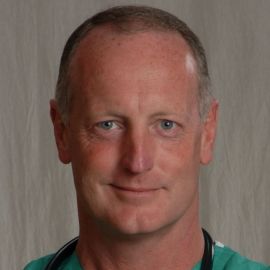 Dr. Max Rogers
Former Fighter Pilot, Healthcare Consultant
Dr. Max Rogers was born and raised in Mobile, Alabama, and attended The Virginia Military Institute for college. After graduating from VMI, he was commissioned in the United States Marine Corps. He attended Naval Aviation training in Pensacola FL, and after being designated a Naval Aviator, was selected to fly F/A-18 Hornet Strike Fighters out of Beaufort, South Carolina.
After serving in the Marine Corps for seven years, Dr. Rogers attended medical school at the University of Alabama School of Medicine. He completed his residency and internship in Obstetrics and Gynecology at The University of Alabama Hospital in Birmingham. Dr. Rogers returned to Mobile, Alabama in 1998, and entered private practice in Obstetrics and Gynecology. He is board certified, a Fellow in The American College of Obstetricians and Gynecologists, and a Diplomat of The American Board of Obstetricians and Gynecologists. He is the Chairman of the Alabama Section of the American Congress of Obstetricians and Gynecologists. He has previous experience as a Life-Saver Helicopter trauma Physician as well as an emergency room Physician.
Dr. Rogers began combining his previous experiences in the high reliability world of military fighters, with his experiences in his medical career, using both to concentrate on patient safety and quality improvement in healthcare. As Chief of a Medical Staff, he worked to educate 640 physicians and staff on issues of patient safety and high reliability teams; utilizing quality improvement processes from aviation and other high reliability industries, and adapting them to the medical profession. With the inherent complexity of our ever-expanding knowledge and technology in the health sciences, Dr. Rogers continues to teach and consult on the absolute necessity of high reliability teams and their processes; our only hope for achieving flawless healthcare.
Videos
---
Related Speakers View all
---
Story Musgrave, M.D.

Retired NASA Astronaut; Physician & Professor at Art...

J.R. Martinez

Actor, Best-Selling Author, Motivational Speaker, Ad...

Afterburner

US Fighter Pilots & Team-Building Experts

Scott O'Grady

Former U.S. Air Force Captain, Fighter Pilot Who Sur...

Tom Voss

U.S. Army Combat Veteran, Mental Health & Holistic H...

Diane Carlson Evans

Army Nurse & Founder of The Vietnam Women's Memorial...

Dr. Connie Mariano

Former White House Physician; Rear Admiral of the U....

Eric Fair

Army Veteran & Puschart Prize Winner for His 2012 Es...

James Autry

Leadership Expert; Former Fortune 500 Business Execu...

Yvonne Corppetts

Speaker, motivator, author, and educator. Entertaini...

Johnny Burns

Served as a C.E.O.of several hospitals, a sales rep ...

Jessica Cox

World's First Armless Pilot & First Armless Black-Be...

Montel Williams

Emmy Award-Winning Talk Show Host Best Known For "Th...

Rob Waldo Waldman

Decorated Fighter Pilot; Power of Relationships & Tr...

John Nance

New York Times Best-Selling Author

David Feherty

Golf Commentator on NBC Sports, TV Host, Bestselling...

Michael Broome

Motivational Speaker on Balanced Life & Values; Stre...

Ryan Matthews

U.S. Army Veteran, Dog Trainer, Author

Loyce Pace

President and Executive Director of Global Health Co...

Kameelah Phillips

Obstetrician and Gynecologist, Founder of Calla Wome...
More like Dr.