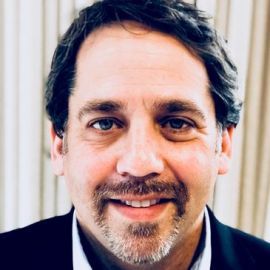 Dr. Michael Klein
Organizational Psychologist & Workplace Consultant
Michael Klein has been a workplace consultant, advisor, speaker, and author for over 20 years. He has worked with industries including pharmaceuticals, financial services, entertainment, banking, construction, education, forestry, retail, publishing, hospitality, manufacturing, and healthcare.
Dr. Klein advises and coaches individuals on issues related to professional growth and development. His book, Trapped in the Family Business (second edition, 2018), addresses the complexities of entering, working in, and exiting family-owned enterprise. He is a frequent speaker to family business centers, advisor associations, and other industry groups. Michael's book and work have been featured in numerous publications and media outlets including The New York Times, USA Today, and CNN.
Michael also teaches and runs workshops for undergraduate and graduate students on topics including applied psychology in organizations, career development, and understanding personal and professional strengths for the workplace.
Prior to starting MK Insights, Michael was a Director of Field Training & Development at MassMutual Financial Group, where he created and managed assessment and development processes for sales professionals and sales leaders.
He is a Haverford College and Rutgers alum, and lives in western Massachusetts.
Speech Topics
---
Working in the Family Business: Thriving or Trapped?
Although it is rarely discussed, many owners and family members who work in family-run businesses did not choose their careers. These individuals enter and stay in family businesses despite professional stagnation, low satisfaction, and even significant emotional discomfort. In this presentation, participants will learn some of the many reasons that family members who work in the family business are put in "emotional handcuffs", what the results can be, and what can be done about it. Two types of "trapped" family members will be addressed; TYPE I: early/mid-career (2nd generation and beyond) and TYPE II: mid/late career (1st generation and beyond). Participants will learn not only how to avoid both types of trapped situations, but also a variety of various strategies for managing and remedying the situation.
The Human Instruction Manual: How Psychological Assessment Tools Can Maximize Performance, Satisfaction, and Relationships
As self-administered personality assessments (and similar tests that measure individual values, motivators, emotional/social style) have become easier to access and less expensive to use over the past several years, there has been a surge in the use of these tools for understanding and managing relationships, groups, teams, and almost any combination of people who want to work (or live) more effectively, efficiently, and passionately together. Such tools have found homes increasingly in non-business settings including personal relationships, families, college organizations, religious groups, classrooms, and even performing arts groups (e.g. bands, theater groups). This keynote highlights the value of these tools, provides stories about their impact, and shares a vision for integrating these insights into daily living.
The Psychology of Exit Planning and Business Succession: Planning your next chapter while avoiding pitfalls
Planning to sell, exit, or transition a business requires heavy lifting legally and financially. Unfortunately, personal transition often lags behind as it cannot easily be seen on a spreadsheet. This presentation focuses on understanding why transition planning can be complex emotionally and psychologically, as well as why successful business owners' personality traits, values, and skills are often at odds with what is needed to plan and transition successfully. In addition, the importance of assessing and understanding differences in capabilities, styles, and key motivators between the current and future business owner is highlighted as a method for avoiding unnecessary conflict and roadblocks while also smoothing the transition process.
Related Speakers View all
---
Dr. Nashater Deu Solheim

Psychologist, CEO of Progressing Minds AS, Persuasio...

Kati Morton

Mental Health Activist, Marriage & Family Therapist

Simon Hartley

Founder of Be World Class

David M. Allen, M.D.

Author of "How Dysfunctional Families Spur Mental Di...

Timothy Keiningham

Marketing and linking service

Jo Umberger

Speaker, trainer, coach and entrepreneur.

Carol Muratore

Business of healthcare

John A. Davis

Harvard Business Professor, Family Business Expert, ...

Linnda Durre, Ph.D.

Psychotherapist, Consultant, Speaker, Trainer, Publi...

Pelin Kesebir

Scientist at Center for Healthy Minds, Specialist in...

Kari Leibowitz

Social Psychology Doctoral Student at Stanford Unive...

Michael Reichert

Psychologist & Founding Director of the Center for t...

B Janet Hibbs and Anthony Rostain

Experts on Student Mental Health, Family Relationshi...

Leah Georges

Social Psychologist, Generational Enthusiast & Mille...

Bobbi Wegner, Psy.D.

Psychologist; Lecturer at Harvard; Parenting Expert

Amy Cooper Hakim, Ph.D.

Industrial-Organizational Psychology Practitioner & ...

Jonathan Sandys

Speaking on the life & leadership of my great-grandf...

Teena Jain

Teena Jain is the founder of Depression-Guide.com an...

Dr. Paul White

Psychologist, Author & Leadership Trainer

Kimberly Seelbrede

New York State Licensed Psychotherapist, Relationshi...
More like Dr.