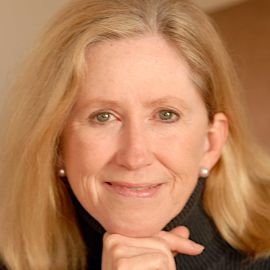 Throughout a decade of in-depth interviews, she has been able to speak with the innovators who drive technology, as well as the everyday people who must cope in our new high-tech world. Popular business guests include new leaders, such as Amazon's Jeff Bezos and Google's Larry Page and Sergey Brin, as well as long-term CEO's, such as Intel's Andy Grove and Microsoft's Steve Ballmer.
But the technology story goes well beyond the tech-business roller coaster. From Senator John McCain to Ralph Nader, from the Motley Fools to Dilbert cartoonist, Scott Adams, from scientists Francis Crick and James Watson to Alvin Toffler, everyone plays an essential role.
In over 2,000 interviews with space pioneers and cyber-novelists, venture capitalists and genetics researchers, teachers and technophobes, she looks at every facet of our lives through the lens of technology.
A founding columnist on Knight-Ridder's SiliconValley.com, Dr. Gunn is a commentator on life in the high-tech age. Her insights air nationally and internationally in the weekly segment Five Minutes, and it is through this venue that she continues to develop the popular "Tech Nation Facts of Life in the High-Tech Age."
As a former NASA scientist and engineer, Dr. Gunn is no stranger to technology. She was the first woman to earn a Ph.D. in Mechanical Engineering from Purdue University, the largest engineering school in the nation. Dr. Gunn has been named both an "Old Master" and an "Outstanding Mechanical Engineer" of the university, where she also serves on the Dean's Science Advisory Council. She holds other advanced degrees in Computer Science, has been awarded a software patent in Nutrition Science, and is a member of Phi Beta Kappa.
Dr. Gunn is currently a Member of the Board of Directors of the Tech Museum of Innovation, the Advisory Board of the Anita Borg Institute for Women & Technology, and The Tech Awards' Global Leadership Council. Her many diverse roles range from chairing the Technology Jury for the annual Heinz Awards to hosting the Pop!Tech 2003 Conference. She has been an Adjunct Professor at the University of San Francisco for over 20 years.
She is regularly asked to speak on the Current and Projected State of Global Technology, on Business Perspectives in the New Millennium, and on World Class Challenges & Innovation.
She is the President and CEO of The Tech Nation Group, the chair of the annual Tech Nation Summit held each year in San Francisco, and the Editor-in-Chief of the Tech Nation Quarterly.
Speech Topics
---
Social Media: Nothing Will Ever Be the Same Again
All About You ... The New Genomics and the Nature of Being Human CATEGORIES
Related Speakers View all
---
Kara Swisher

Award-Winning Technology Business Journalist & Podca...

Danielle Feinberg

Director of Photography at Pixar Animation Studios; ...

Beena Ammanath

Executive Director of Deloitte AI Institute & Founde...

Randi Zuckerberg

CEO & Founder of Zuckerberg Media; Bestselling Autho...

Tracy Chou

Advocate for Diversity & Inclusion Expert in the Tec...

Katie Linendoll

Emmy Winning TV Personality; Technology Expert & Con...

Mitch Lowe

Co-founding Executive of Netflix & President of RedBox

Nicole Yeary

Founder & CEO of Ms.Tech

Emily Calandrelli

Aerospace Engineer; Host & Producer of FOX's "Xplora...

Kate O'Neill

Founder & "Chief Tech Humanist" of KO Insights

Lolita Taub

Latina Tech Venture Capitalist; Co-Founder & General...

Kimberly Bryant

Founder & CEO of Black Girls CODE

Alexia Tsotsis

Former Co-Editor, TechCrunch; Founder of Dream Team

Jack Shaw

Corporate Financial Executive, Software Company Exec...

Fran Hauser

Media Executive, Startup Investor & Best-Selling Aut...

Nancy Douyon

Founder & Chairwoman of Douyon Signature; Former Int...

Terry Jones

Digital Disruptor, Author & Venture Capitalist

Matthew Luhn

Former Pixar Animator, Story Artist, Creativity Expe...

Alex Salkever

Futurist, Author of "The Driver in the Driverless Ca...

Leslie Bradshaw

Entrepreneur in Residence, Bionic Solution; Digital ...
More like Dr.