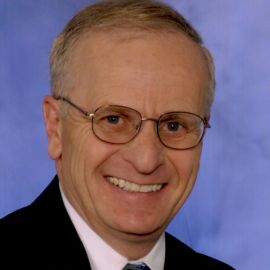 Dr. R. Paul Williamson
Author, Motivator, Visionary, Energy Expert, Businessman, Innovator, Researcher, Academic Leader, and Change Agent
Dr. Williamson has spent a lifetime interacting with businesses, institutions, agencies, students, business leaders, entrepreneurs, corporate frontrunners, and the "hard-working men/women on the street." His ability to customize and design enthusiastic audience-centered presentations that are relevant and timely is equal to some of the best while his down-to-earth humorous style promotes interaction and audience involvement.
Based on organizational goals, Dr. Williamson works with groups to maximize time and energy invested in any presentation. National audiences have continuously endorsed his presentations and see his visionary and futurist outlook invigorating and hearting.
After a decade of research and work, he has organized the first national sustainable energy plan in his nationally available book "Winning the Energy Wars, A Sustainable Energy Plan for America's Future," available through all major bookstores (usa-sep.com). His nationwide interviews on radio and television have been widely praised, informative, conversational and audience interactive.
His entertaining and provocative delivery style combined with in-depth research and an innovative approach makes him a favorite with clients who want to move beyond the limitations of traditional "best practices" and set breakthrough objectives to achieve maximum success.
Topics that Dr. Williamson has presented include energy, sustainability, alternative energy, energy planning, personal development, business, leadership development, campus issues, advanced transportation (monorail, hydrogen, electric), corporate training, financial planning, change management, entrepreneurship, team building, and employee motivation.
Books
---
Related Speakers View all
---
Parag Khanna

Leading Geo-Strategist & Author

Peter Diamandis

Founder & Executive Chairman of the XPRIZE Foundatio...

Majora Carter

Real Estate Developer, Peabody Award-Winning Broadca...

Alexandra Cousteau

Environmental Activist, Storyteller & Ocean Advocate

Clay Shirky

Expert on New Technology & Social Media, & How They ...

Graham Hill

Founder of Life Edited & TreeHugger.com

Doc Hendley

Founder & President of Wine to Water; CNN's 2009 Her...

Ken Dychtwald

Founder & CEO of Age Wave; Gerontologist & Expert on...

Robert Ballard

Renowned Ocean Explorer & Scientist

Tim Sanders

Bestselling Author, Technology Pioneer, Expert on Co...

Peter Rojas

Co-founder of Gizmodo and of Engadget

David Pogue

Host of NOVA ScienceNow & Yahoo Tech Columnist

Van Jones

CNN Political Contributor; Author; Human Rights, Edu...

James Canton

Futurist, Author & Visionary Business Advisor

Sir Richard Branson

Businessman & Founder of Virgin Group

Rod Beckstrom

Silicon Valley Entrepreneur, Cybersecurity Expert & ...

Dan Ariely

Behavioral Economist; Professor at Duke University; ...

Dr. Adolph Brown

Educator, Businessman & Author

Dr. Franklin Chang Díaz

Former NASA Astronaut, CEO of Ad Astra Rocket Compan...

Tiki Davis

Award-Winning Entrepreneur, Successful Businessman, ...
More like Dr.