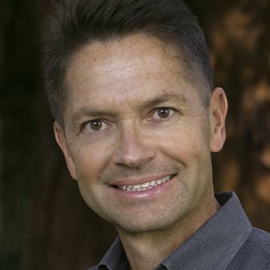 Dr. Robert Emmons
World's Leading Scientific Expert on Gratitude & Professor of Psychology at the University of California
Robert Emmons is an American psychologist and professor at UC Davis. His research is in the field of personality psychology, emotion psychology, and psychology of religion.
Emmons completed his undergraduate psychology degree in 1980 at the University of Southern Maine, Portland. He then obtained a M.A. in 1984 from the University of Illinois at Urbana-Champaign in personality psychology, and a Ph.D., in the same subject from the same university in 1986, with a thesis "Personal Strivings: An Approach to Personality and Subjective Well-Being". He was an assistant professor at Michigan State University from 1986 to 1988 and came to Davis at the same rank in 1988. He was appointed associate professor in 1990, and full professor in 1996. He has written or edited 6 books and over 100 articles for scientific journals. He is editor-in-chief of The Journal of Positive Psychology.
Emmons' research examines the psychology of gratitude and the psychology of individual goal setting and their connection with positive outcomes in a person's life. He was involved in a $905,000 research grant from the Templeton Foundation during 2006–2009 evaluating the effect of Young Life (a Christian youth ministry) on teens' spiritual fruits such as kindness, generosity, and selflessness, and has received other grants from them. Emmons is known for working on multiple research projects focused on gratitude.
He addresses many ways to stay grateful in different situations and has found through his research that gratefulness inspires happiness. He is focused on finding ways to engender gratefulness in youth. He has found that practicing acts of gratitude such as journaling things for which one is grateful for can promote well-being.
Related Speakers View all
---
Eduardo Briceño

Growth Mindset and Improvement Expert; Co-Founder & ...

Anthony Colannino

International Center for Leadership in Education Sen...

Emily Diehl

Former Director of Professional Learning & Curriculu...

Janna Peskett

Director of Curriculum Design & Digital Content at M...

Dr. Sharroky Hollie

Executive Director of The Center for Culturally Res...

Kanya Balakrishna

Co-Founder & CEO of The Future Project

Carol Dweck

Leading Researcher in the Field of Motivation, Autho...

George Couros

Author & Educator; Innovative Teaching, Learning & L...

Mihaly Csikszentmihalyi

Pioneer in Understanding Happiness, Creativity, Fulf...

Chase Mielke

Award-Winning Educator & Blogger; Creator of a Posit...

Malcolm London

Young Poet, Educator & Activist; Known for his TED T...

Jaime Casap

Former Chief Education Evangelist at Google

Liz Dozier

Founder & CEO of Youth Equity Platform Chicago Beyon...

Linda Darling-Hammond

CEO of the Learning Policy Institute & Founder of th...

Kandice Sumner

Educator & TED Speaker

Kristie Kennedy

Women's Worth & Wellness Expert, TEDx Audacious Lead...

Melissa Crum

Artist, Author, Researcher, and Owner of Mosaic Educ...

Dena Simmons

Educator, Director of Education at Yale Center for E...

Jennifer Maichin

Education & Professional Learning Specialist at Mind...

Lisa Blackwell, PhD

Co-Founder & VP of Design, Implementation & Evaluati...
More like Dr.