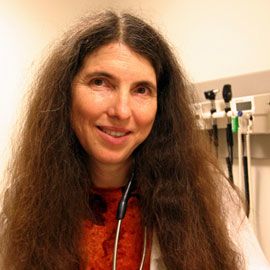 Dr. Steffie Woolhandler
Co-Founder & Board Member of Physicians for a National Health Program; Distinguished Professor of Public Health & Health Policy in the CUNY School of Public Health at Hunter College
Dr. Steffie Woolhandler is a practicing primary care physician, distinguished professor of public health and health policy in the CUNY School of Public Health at Hunter College, adjunct clinical professor at Albert Einstein College of Medicine, and lecturer in medicine at Harvard Medical School, where she co-directed the general internal medicine fellowship program and practiced primary care internal medicine at Cambridge Hospital.
Dr. Woolhandler earned her bachelor's degree from Stanford University; her medical degree from Louisiana State University; and her master's degree from the University of California. She worked in 1990-1991 as a Robert Wood Johnson Foundation health policy fellow at the Institute of Medicine and the U.S. Congress.
Dr. Woolhandler is a frequent speaker and has written extensively on health policy, administrative overhead and the uninsured. She has authored more than 150 journal articles, reviews, chapters, and books on health policy. A sample of Dr. Woolhandler's grand rounds at the University of Southern California Keek School of Medicine is available here.
A co-founder and board member of Physicians for a National Health Program, Dr. Woolhandler co-edits PNHP's newsletter and is a principal author of PNHP articles published in the JAMA and the New England Journal of Medicine in conjunction with Dr. David Himmelstein.
Videos
---
Related Speakers View all
---
Eric Manheimer

Author of "Twelve Patients: Life and Death at Bellev...

Dr. David Himmelstein

Co-Founder of Physicians for a National Health Progr...

Helen Egger

Founder, WonderLab & Chair of the Department of Chil...

Elisabeth Rosenthal

Award-Winning Reporter, Former Physician, & Author o...

Jonathan Goldfinger

Pediatrician; Member of California Surgeon General A...

Preetha Reddy

Vice Chairperson at Apollo Hospitals Enterprise Ltd

Busy Burr

Head of Healthcare, Innovation & Trend, Humana

Michael Saag

Physician, Healthcare Activist and Prominent HIV/AID...

Walid Qoronfleh

Director of Healthcare Research and Policy at the Wo...

Dave Chase

Institute CEO & Group Co-Founder of Health Rosetta

Bob Kocher

Partner at Venrock; Healthcare IT Expert

Karen DeSalvo

Chief Health Officer, Google; Former Assistant Secre...

Rishi Manchanda

Physician, Public Health Innovator, President & CEO ...

Marty Makary, M.D.

Healthcare Futurist, Johns Hopkins Surgeon & Profess...

Dr. Anthony Fauci

Director, National Institute of Allergy and Infectio...

Dr. Elaina George

Otolaryngologist, Expert on the Business of Healthca...

Carina Edwards

CEO, Quil Health

Diana Clynes

Executive Director For The American Association of K...

Risa Simon

Motivational Speaker, Patient Advocate, Author & Kid...

Georges C. Benjamin, MD

Executive Director, American Public Health Association
More like Dr.